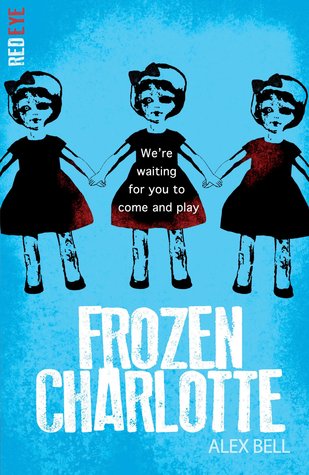 How did I get it?:
Sent to me from Stripes Publishing for part of the blog tour of Frozen Charlotte!
Synopsis:
We're waiting for you to come and play. Dunvegan School for Girls has been closed for many years. Converted into a family home, the teachers and students are long gone. But they left something behind…Sophie arrives at the old schoolhouse to spend the summer with her cousins. Brooding Cameron with his scarred hand, strange Lilias with a fear of bones and Piper, who seems just a bit too good to be true. And then there's her other cousin. The girl with a room full of antique dolls. The girl that shouldn't be there. The girl that died.
Thoughts:
I think it's safe to say that I'm not the biggest fan of horror. My imagination runs away with me and things play on my mind for ages after I've read a book. I still have vivid memories of a part of a Chris Wooding book that will forever stay in my memory! However, I was SO intrigued by Frozen Charlotte that I knew I wanted to read it. Even if I had to take breaks between chapters to focus my mind elsewhere… I tore through Frozen Charlotte despite the breaks I took whilst reading it…it was incredibly creepy. I'm just glad I don't have any dolls in the house!
Frozen Charlotte follows Sophie and her cousins Cameron, Lilias and Piper as Sophie spends summer with them. The prologue gripped me immediately. It starts with Sophie and her friend Jay mucking around with a Ouija board app which certainly has consequences. I raced through the book as Sophie went to visit her Uncle and cousins in Scotland at the creepy schoolhouse. It was incredibly creepy. I found the setting so atmospheric. It's definitely a book that I could easily see being adapted for TV or film. It would make a great teenage horror film.
At her Uncle's house, Sophie hears things going bump in the night and she hears voices seeming to be coming from the creepy Frozen Charlotte dolls in her deceased cousin's bedroom. Sophie is sure there is a link between the dolls and her friend Jay. She's determined to find out more about the incidents that keep occurring and why her Uncle's house is plagued with bad luck.
Alex Bell's writing is exciting and easy to read. I found myself wanting to read more as each chapter hooked me a little further. The pace of the book was fantastic and made me devour it! Frozen Charlotte is well worth reading!
Would I recommend it?:
Of course!
Creepy, exciting and mysterious- this book had me gripped from the prologue!