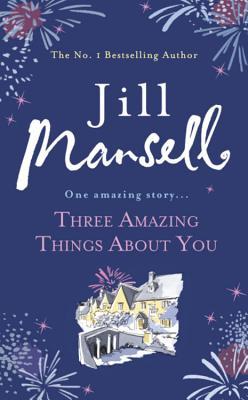 How did I get it?:
Received from Headline via Bookbridgr!
Synopsis:
Hallie has a secret. She's in love. He's perfect for her; he's even single. But he's out of bounds. And her friends aren't going to help her because what they do know is that Hallie hasn't got long to live.
Flo has a dilemma. She really likes Zander. But his scary sister won't be even faintly amused if she thinks Zander and Flo are becoming friends – let alone anything more…
Tasha has a problem. Her new boyfriend is the adventurous type. And she's afraid one of his adventures will go badly wrong.
THREE AMAZING THINGS ABOUT YOU begins as Hallie goes on a journey. She's about to get a new heart. But whose heart is it?
Thoughts:
I haven't had the best of luck with women's fiction/chick-lit recently, but I really liked the sound of Jill Mansell's new book, so I was very happy to receive a copy of it. Three Amazing Things About You follows many characters as they go through massive changes in their lives. It's funny at times and heart breaking at other points, but overall what I got was an engaging, quick read.
Hallie was my favourite character to read about. She has Cystic Fibrosis and is very much in love with her doctor, who is totally out of reach. Hallie's condition is worsening and she's waiting for a lung transplant. Hallie stores her feelings inside and instead gives advice to others on her website 'Three Things About You.'  Tasha unexpectedly finds the man she's been waiting for, but unlike her, he's very adventurous and lives for extreme activities. My least favourite character was Flo, who falls for Zander despite his sister being quite horrible!
I really liked that Jill Mansell included a character with a chronic illness. I think it's so important to represent individuals that do have conditions and to explore them in a sensitive manner just like Jill has done so. I wondered whether all of the characters would connect together, but they do eventually and in a way that I didn't expect. This book is more than your average 'chick-lit'.
Would I recommend it?:
Of course!
A thought-provoking read which is deeper than your average chick-lit!