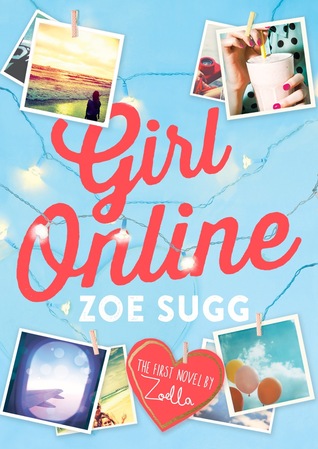 How did I get it?:
I bought it!
Synopsis:
I had no idea GirlOnline would take off the way it has – I can't believe I now have 5432 followers, thanks so much! – and the thought of opening up to you all about this is terrifying, but here goes…
Penny has a secret.
Under the alias GirlOnline, she blogs about school dramas, boys, her mad, whirlwind family – and the panic attacks she's suffered from lately. When things go from bad to worse, her family whisks her away to New York, where she meets the gorgeous, guitar-strumming Noah. Suddenly Penny is falling in love – and capturing every moment of it on her blog.
But Noah has a secret too. One that threatens to ruin Penny's cover – and her closest friendship – forever.
Thoughts:
My review of this book is going to be hard to write because I feel like I have a lot to say about the 'drama' surrounding it. I have to say, I do watch Zoe's videos on YouTube, but my main reason for picking up this book was because I heard it dealt with anxiety, which I also am unfortunate enough to suffer from. I'm always intrigued by books that deal with it, if it's non fiction or a character that deals with anxiety. Then the sh*t storm happened. It came out that Zoe had a ghost writer in the form of the wonderful Siobhan Curham (I've reviewed Dear Dylan and Shipwrecked out of her work). I have to say, I'm not surprised that Zoe had a ghost writer. I never expected her to produce a book so quickly and I don't think it matters that she had help to write it. Ghost writing is much more common that many might think! I think what has 'bothered' so many people is the fact that it seems Zoe said she had written this book independently.
I wasn't sure whether to review this book or not because I know people have made up their own mind about whether it's a good or bad book without reading it. I don't think Siobhan or Zoe deserved the abuse they've received over this book, which is encouraging young people to pick up a book. How can that be a bad thing?
Girl Online would suit the younger range of young adult and teenagers as well. The writing style comes across as very young, but I understand that I'm not the target age for this book. It follows a pretty basic storyline. Our awkward, clumsy protagonist meets the 'hot boy', the girl's best friend becomes jealous, the 'hot' boy inspires the girl to believe in herself. The boy and girl are then separated because of distance. They find things out about one another. They begin to doubt their relationship… It's all been done before and you can predict what's going to happen.
An issue I have with this book is how some of the plot seemed to be thrown together with not much depth. I know it's hard to write a book in such depth that I was expecting in the time frame that this book was written in, so I can't be too critical.
However, there are good points about this book. One of which is that it deals with anxiety and panic attacks alongside dealing with online hate and homophobia. I think it's so important for it to be recognised in literature. It's also a light enough read to get through quickly. I can imagine that it is encouraging so many young people to read and that is NEVER a bad thing in my eyes.
Would I recommend it?:
Yes! 3.5 stars
Please check out Siobhan's blog for her take on Girl Online. She makes some incredibly important points.
Girl Online is a fun, if predictable read. I think many of Zoe's fans will lap it up! I think this book would be a good starting point for more reluctant readers.