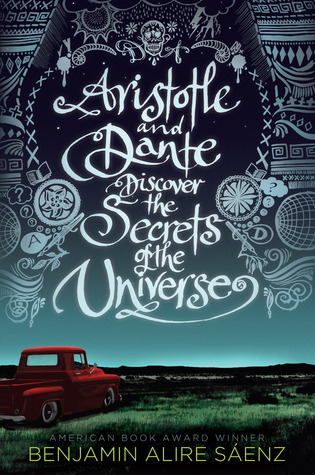 How did I get it?:
I bought it!
Synopsis:
Aristotle is an angry teen with a brother in prison. Dante is a know-it-all who has an unusual way of looking at the world. When the two meet at the swimming pool, they seem to have nothing in common. But as the loners start spending time together, they discover that they share a special friendship—the kind that changes lives and lasts a lifetime. And it is through this friendship that Ari and Dante will learn the most important truths about themselves and the kind of people they want to be.
Thoughts:
I have had Aristotle and Dante Discover The Secrets of the Universe on my to be read list for a long time, so I was happy to slip it in between other reads this month. I thought this book was refreshing in the way in which it dealt with how confusing the world is, the only reason I didn't give it five stars was because it didn't fully knock me off my feet and I felt like it was a bit slow in places.
I thought Aristotle and Dante were brilliant characters. Ari will be easily relatable to many readers either of themselves or their teenage selves. Ari was confused about being a teenager and the world confused him too. Dante was much more outgoing. He was an incredibly unique, vibrant character. I also really appreciated that both parents were present for both of our main characters. All too often parents are missing and it's nice to see a family that sticks together no matter what.
This is the first book that I've read by Benjamin Alire Saenz. I was very impressed. The writing is easy to read and flows so beautifully. The sentences he writes aren't particularly long nor do they use impressive words. They are simple and powerful. I would definitely read more of his work based on this book!
Would I recommend it?:
Of course!
A beautiful story about love, identity and families. Perfect for both teens and adults!