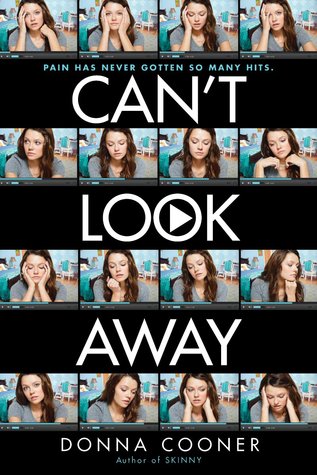 How did I get it?:
I bought it!
Synopsis:
Torrey Grey is famous. At least, on the internet. Thousands of people watch her popular videos on fashion and beauty. But when Torrey's sister is killed in an accident — maybe because of Torrey and her videos — Torrey's perfect world implodes.
Now, strangers online are bashing Torrey. And at her new school, she doesn't know who to trust. Is queen bee Blair only being sweet because of Torrey's internet infamy? What about Raylene, who is decidedly unpopular, but seems accepts Torrey for who she is? And then there's Luis, with his brooding dark eyes, whose family runs the local funeral home. Torrey finds herself drawn to Luis, and his fascinating stories about El dio de los Muertos, the Day of the Dead.
As the Day of the Dead draws near, Torrey will have to really look at her own feelings about death, and life, and everything in between. Can she learn to mourn her sister out of the public eye?
Thoughts:
Can't Look Away immediately drew me in with its synopsis. It feels incredibly current given the popularity of Youtubers at the moment!
Can't Look Away follows Torrey Grey. Torrey's Youtube beauty channel 'Beautystarz15' is a hit. Torrey's subscribers believe she has the perfect life with her beauty hauls and other beauty features. They want to be like her, they feel incredibly connected to her. Yet Torrey's life isn't as simple as it may seem. Torrey's younger sister Miranda dies and the events leading up to her death play on Torrey's mind. Miranda's last conversation with Torrey was an argument, so Torrey feels immensely guilty. Torrey finds it hard to return to Youtube and be that person that her subscribers are used to. Can't Look Away tells Torrey's story as she tries to adapt to life without her sister.
I have to admit, I wasn't sure that I was going to like Torrey as she seemed incredibly self-centred and more worried about what people thought of her and how she looked. Of course, many teens feel this way, so I guess it was realistic, I just worried that I wasn't going to connect with her. I needn't have worried though. Torrey grows throughout this book and whilst sometimes her actions may seem a little shallow, she has a good heart.
Can't Look Away deals with some incredibly tough issues in a sensitive and realistic manner. I think it's well worth reading!
Would I recommend it?:
Yes! 3.5 stars
Can't Look Away is a quick, realistic read where the character goes on a massive emotional journey!