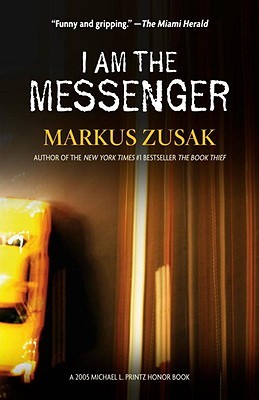 How did I get it?:
I bought it from Mr B's Emporium
Synopsis:
protect the diamonds
survive the clubs
dig deep through the spades
feel the hearts
Ed Kennedy is an underage cabdriver without much of a future. He's pathetic at playing cards, hopelessly in love with his best friend, Audrey, and utterly devoted to his coffee-drinking dog, the Doorman. His life is one of peaceful routine and incompetence until he inadvertently stops a bank robbery.
That's when the first ace arrives in the mail.
That's when Ed becomes the messenger.
Chosen to care, he makes his way through town helping and hurting (when necessary) until only one question remains: Who's behind Ed's mission?
Thoughts:
I have had a copy of I Am The Messenger for such a long time now, I was just waiting for the right time to slot it in, but like always, some other books had caught my attention. When Stefani from I Read Books contacted me asking whether I'd want to buddy read this book, I jumped at the chance! An opportunity to read it! Yay!
Now, neither of us have taken part in a buddy read before, so we didn't really know what we were doing. I thought it was fun though, reading a book at the same time as a blogging friend! We tweeted a few times both highlighting what a strange and intriguing read this book is. I was immediately pulled into Markus Zusak's writing. I couldn't put it down.
I Am The Messenger centres around Ed, who isn't doing much with his life. When he is faced with a bank robbery and comes out of it a hero, strange events start happening to him. Ed receives messages in the mail. They are messages which tell him to help (or in some cases hurt!) others. I Am The Messenger is an intriguing story, its plot is fast paced and has quite some intensity!
At first, I thought this book was going to be an action packed read. The first chapter is incredibly fast paced and suspenseful, but then the action slows right down. I'm not sure that everyone would get on with this book. It's well written, but much like The Book Thief, I Am The Messenger is a book that I think will divide readers purely down to its uniqueness.
If I'm totally honest, I didn't really connect with the characters as much as I wanted to. They were well written characters, Ed in particular grows so much throughout the book. It's lovely to read about him growing in confidence as the story progresses. It's just for some reason, I never really had a strong connection with any of the characters.
This book has good heart. The message I took from it was a message about humanity. We could all do things to help others at some point in our lives.
For Stefani's review, please check out her blog HERE
Would I recommend it?:
Of course!
I Am The Messenger is unique. The message behind it is heartwarming.