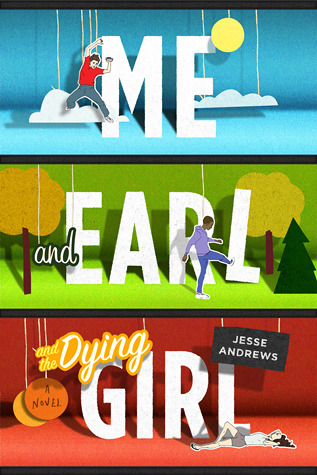 How did I get it?:
I bought it!
Synopsis:
Greg Gaines is the last master of high school espionage, able to disappear at will into any social environment. He has only one friend, Earl, and together they spend their time making movies, their own incomprehensible versions of Coppola and Herzog cult classics.
Until Greg's mother forces him to rekindle his childhood friendship with Rachel.
Rachel has been diagnosed with leukemia—-cue extreme adolescent awkwardness—-but a parental mandate has been issued and must be obeyed. When Rachel stops treatment, Greg and Earl decide the thing to do is to make a film for her, which turns into the Worst Film Ever Made and becomes a turning point in each of their lives.
And all at once Greg must abandon invisibility and stand in the spotlight.
Thoughts:
I have had this book on my radar for a while now, so I was glad to finally pick it up! I was expecting this book to be really unique, which it was, but it fell a little short for me.
Me and Earl and The Dying Girl is a book about a serious issue, but it's cleverly laced with some humour which lightens the mood of the book. It's refreshing. So often books with characters suffering from cancer are understandably heart-breaking, yet this book takes the issue in a lighter manner, which some, I think will appreciate and others won't!
I think the reason I felt a little let down by this book was that it didn't really go anywhere. The characters didn't really develop and the story doesn't really progress. Yet, I think it's still enjoyable enough to pick up. Just don't pick it up expecting an overly emotional, character driven book. It's not that. It's not even that much about cancer. It's about Greg, his self deprecating humour and his own issues.
Don't get me wrong, this is a good read. It's just not as plot driven as I had hoped!
Would I recommend it?:
Yes!
Although I didn't love this book as much as I wanted to, I think others will adore it! Worth trying!