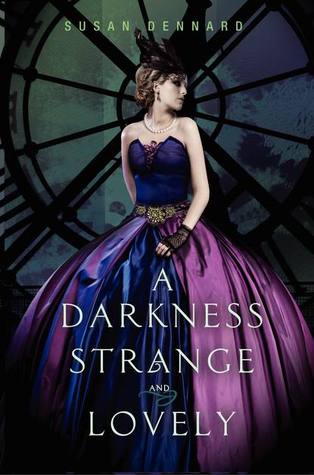 How did I get it?:
I bought it!
Previously reviewed by the same author:
Something Strange and Deadly
Synopsis:
With her brother dead and her mother on the verge of insanity, Eleanor Fitt is utterly alone. Even the Spirit-Hunters – Joseph, Jie and the handsome, enigmatic Daniel – have fled to Paris. So when Eleanor begins to hear the vicious barking of hounds and see images of haunting yellow eyes, she fears the worst – that the Dead, and the necromancer Marcus, are coming for her.
To escape and search out the Spirit-Hunters, Eleanor boards a steamer bound for France. There she meets Oliver, a young man who claims to have known her brother. Though friendly, Oliver entices Eleanor with necromancy and black magic, yet as long as she can resist his powerful temptation, she'll be fine. But when she arrives in Paris, she finds that the Dead have taken over the city…and there's a whole new evil lurking. With the body count rising, Eleanor is forced to make a deadly decision that will go against everything the Spirit-Hunters stand for.
In Paris, there's a price for this darkness strange and lovely…and it may have Eleanor paying with her life.
Thoughts:
I liked Something Strange and Deadly, but I had waited a long time (blame my ridiculous TBR) to read A Darkness Strange and Lovely so I was somewhat nervous to start this book. Would I remember it enough? I need not have worried. Susan Dennard cleverly recalled what had happened in the previous instalment, so if you're worried about having left some gaps in-between the books then don't worry!
I really like this series. It's got some incredibly witty moments within it which I very much appreciated. This series feels really original. I absolutely adore the setting. I loved how it was split between 1800s Philadelphia and Paris. It's not often that you find that in a historical/paranormal/steampunk read. I also really love how it's not easily defined into one genre. It's a little bit of all of the genres I mentioned!
I actually preferred this book to Something Strange and Deadly, although I can't really pinpoint why. I definitely felt like I 'knew' the characters better. Eleanor is on her way to Paris after Marcus is on the hunt for her. She travels by boat to Paris, looking for the Spirit-Hunters. Eleanor's trip is very eventful, which I won't go into as I don't want to spoil it. It's action packed though and full of mystery, magic and the paranormal.
A Darkness Strange and Lovely deals with the aftermath of Something Strange and Deadly. It is heavily focused on pain, heartache and desire. It's intense, but, I think, well written. I know that some people have had problems with the romance in this book. I didn't feel the same way, but I can see why it frustrated some readers. You're just going to have to read it yourself and form your own opinions! 😉
Would I recommend it?:
Of course!
A good continuation of the series. I'm looking forward to seeing where this series goes next!