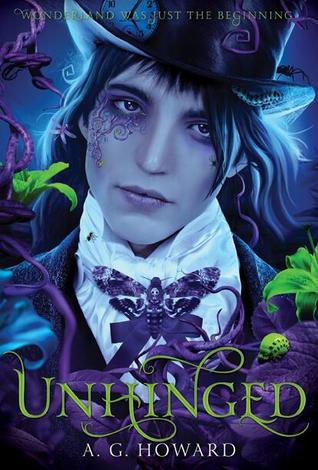 How did I get it?:
I bought it!
Previously reviewed by the same author:
Splintered
Synopsis:
Alyssa Gardner has been down the rabbit hole and faced the bandersnatch. She saved the life of Jeb, the guy she loves, and escaped the machinations of the disturbingly seductive Morpheus and the vindictive Queen Red. Now all she has to do is graduate high school and make it through prom so she can attend the prestigious art school in London she's always dreamed of.
That would be easier without her mother, freshly released from an asylum, acting overly protective and suspicious. And it would be much simpler if the mysterious Morpheus didn't show up for school one day to tempt her with another dangerous quest in the dark, challenging Wonderland—where she (partly) belongs.
As prom and graduation creep closer, Alyssa juggles Morpheus's unsettling presence in her real world with trying to tell Jeb the truth about a past he's forgotten. Glimpses of Wonderland start to bleed through her art and into her world in very disturbing ways, and Morpheus warns that Queen Red won't be far behind.
If Alyssa stays in the human realm, she could endanger Jeb, her parents, and everyone she loves. But if she steps through the rabbit hole again, she'll face a deadly battle that could cost more than just her head.
Thoughts:
It had been a while since I had read Splintered which is A.G Howard's twisted reimagining of Alice in Wonderland. So it was with much trepidation that I picked up Unhinged. Now I'm wondering why it took me SO long to read it. It didn't let me down and now I can't wait to read Ensnared. I shall be reading it ASAP!
Unhinged follows Alyssa one year after her adventures in Wonderland. Alyssa is drawn back into that crazy world into a battle against the Red Queen. Most of Unhinged takes place in Alyssa's 'normal' world, but much of the Wonderland Weirdness seeps through into Alyssa's life. I absolutely adored the character of Morpheus in Unhinged. He's as intriguing as ever as he tries to encourage Alyssa to return to Wonderland.
I can't express how much I enjoyed reading this book. I loved how the normal and the weird entwined. I loved learning more about Alyssa's family. I feel like all of the characters developed well within this book. I feel like I know them really well now and want to find out what's going to happen next. I'm torn between Jeb and Morpheus. Both are wonderfully written male characters.
A.G Howard's writing is just so easy to read. It's imaginative, original and paints such a vivid picture for the reader. Her characters pull you in and keep you turning the pages!
Would I recommend it?:
Of course!
A fantastic, well written addition to the Splintered series!