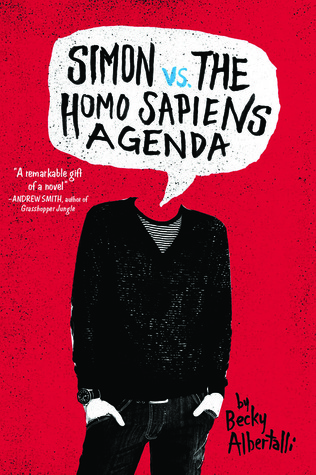 How did I get it?:
NetGalley- many thanks to Penguin Random House Children's
Synopsis:
Sixteen-year-old and not-so-openly gay Simon Spier prefers to save his drama for the school musical. But when an email falls into the wrong hands, his secret is at risk of being thrust into the spotlight. Now Simon is actually being blackmailed: if he doesn't play wingman for class clown Martin, his sexual identity will become everyone's business. Worse, the privacy of Blue, the pen name of the boy he's been emailing, will be compromised.
With some messy dynamics emerging in his once tight-knit group of friends, and his email correspondence with Blue growing more flirtatious every day, Simon's junior year has suddenly gotten all kinds of complicated. Now, change-averse Simon has to find a way to step out of his comfort zone before he's pushed out—without alienating his friends, compromising himself, or fumbling a shot at happiness with the most confusing, adorable guy he's never met.
Thoughts:
I don't know where to start with reviewing this wonderful book! I had heard so many good things about it, but I was trying to not let that dreaded hype monster get to me. I'm happy to say though, this book is well worth all of the hype surrounding it on the blogosphere. I devoured this book and have already recommended to it to a few fellow bookworms and now I'm highly recommending it here on my blog! Simon is one of the most endearing characters that I've read in a long time. He completely captured my heart.
The story centres around Simon Spier who has been emailing a boy that goes by the name of Blue for quite some time. Simon doesn't know who Blue truly is. He knows Blue goes to his school, but doesn't know who he could possibly be. Not knowing who he is does not affect their relationship though. They discuss everything. Blue is gay and he is the only one that knows Simon is too. Until a boy called Martin discovers the emails. Martin is into one of Simon's friends and blackmails Simon. He'll keep quiet if Simon sets him up with Abby.
As I've mentioned, I absolutely adored the character of Simon. He was so easy to love and I adored reading the email exhange between Blue and Simon. The characters were all really well developed as well. It truly is a fantastic young adult read. There were some really funny moments in this story which made me laugh out loud. I'm certainly always going to remember this book fondly and that's down to the adorable Simon and Blue.
Would I recommend it?:
Without a doubt!
This book made me really happy! I highly recommend it!