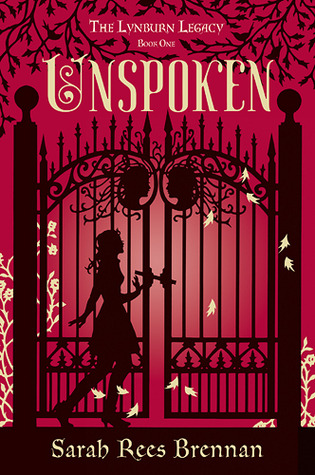 How did I get it?:
I bought it!
Synopsis:
Kami Glass loves someone she's never met . . . a boy she's talked to in her head ever since she was born. She wasn't silent about her imaginary friend during her childhood, and is thus a bit of an outsider in her sleepy English town of Sorry-in-the-Vale. Still, Kami hasn't suffered too much from not fitting in. She has a best friend, runs the school newspaper, and is only occasionally caught talking to herself. Her life is in order, just the way she likes it, despite the voice in her head.
But all that changes when the Lynburns return.
The Lynburn family has owned the spectacular and sinister manor that overlooks Sorry-in-the-Vale for centuries. The mysterious twin sisters who abandoned their ancestral home a generation ago are back, along with their teenage sons, Jared and Ash, one of whom is eerily familiar to Kami. Kami is not one to shy away from the unknown—in fact, she's determined to find answers for all the questions Sorry-in-the-Vale is suddenly posing. Who is responsible for the bloody deeds in the depths of the woods? What is her own mother hiding? And now that her imaginary friend has become a real boy, does she still love him? Does she hate him? Can she trust him?
Thoughts:
I have to admit, the first thing that drew me to this book was its beautiful cover. It's just stunning! Then I read the synopsis and I was incredibly intrigued! I'm happy I found time to read this book. It didn't take long to read and I'm excited to see where it goes next.
Unspoken follows Kami Glass, who is seen as a bit unusual. Kami had an imaginary friend and she grew up… and she still does. Kami still talks to her imaginary friend, no matter how odd it seems to make her. She often feels like a bit of a freak in her small town Sorry-in-the-Vale. Kami doesn't care though, she's got a best friend who seems to be sticking with her and she's running the school newspaper. Everything is going well for Kami, until the Lynburn family move back into town. The Lynburn family used to run the town. The town is terrified by them. Kami wants to get to the bottom of the town's fear. Why are the Lynburn family back? Why is everyone scared of them? Kami wants to investigate…

I devoured Unspoken. I thought it was a great read with some amazing characters. I immediately liked Kami and her group of friends. Kami could easily be one of my favourite female characters. It's nice to read about an outsider that doesn't mind being an outsider. She's different and embraces it. I absolutely adored reading about the Lynburn family. I tried to work out what the secret behind them was and whether they were linked to the strange goings on in the town.
The paranormal element of Unspoken is handled really well. I can often find myself rolling my eyes when reading a clichéd paranormal read, but I happy to say that this book includes paranormal in a fun, exciting and totally engaging way. I can't wait to read the next book in the series!
Would I recommend it?:
Of course!
A fantastic start to a series! I want more!