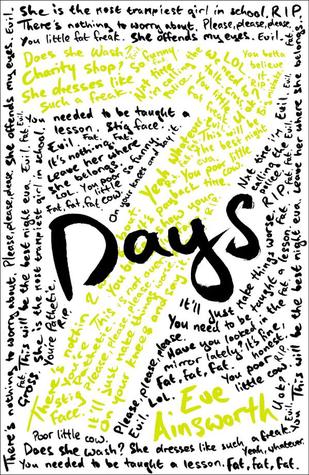 How did I get it?
I bought it!
Synopsis:
This bold, compelling and topical story about bullying is told from the perspective of the bully and the bullied. You won't be able put it down until you've reached the conclusion. Jess's life is difficult enough without Kez picking on her – it's turning school from a safe place into a nightmare. Kez has plenty of problems too but she finds comfort in knowing she is better off than Jess – or so she thinks. A hard-hitting and even-handed look at bullying and the issues facing teenagers today.
Thoughts:
I had heard so many wonderful things about Seven Days. When I heard it was told from the perspective of the bully and the bullied, I was immediately intrigued. Seven Days was so compelling. I couldn't put it down!
Seven Days follows Jess and Kez over the period of a week. Jess is the victim and is bullied by Kez and her friends. We hear from Kez too, who is the ringleader in her gang of friends. They pick on Jess because Jess doesn't look like the rest of them. She's not fussed about her appearance and she isn't skinny like they are. What we gain from hearing from Kez's point of view is that life isn't easy for her either… I won't say why, as it's powerful to explore as the reader.
This totally doesn't excuse Kez's behaviour, and I don't think that's the author's intention. It certainly shows that there can be more to the bully than meets the eye (which we know is often the case). I sympathised with Kez's situation, but I certainly didn't like her as a character. Hearing from both points of view really enhanced the story and made it much more hard-hitting. Some parts were very hard to read, but at the same time important to represent in literature. So many people suffer from bullying and this book just shows how brutal it can be!
Would I recommend it?:
Of course!
A 'real' look at bullying. A hard hitting book that's well worth reading!