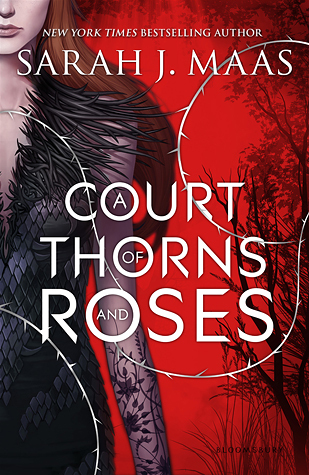 How did I get it?:
NetGalley- thanks to Bloomsbury
Previously reviewed by the same author:
The Assassin's Blade
Throne Of Glass
Crown of Midnight
Heir of Fire
Synopsis:
Feyre is a huntress. She thinks nothing of slaughtering a wolf to capture its prey. But, like all mortals, she fears what lingers mercilessly beyond the forest. And she will learn that taking the life of a magical creature comes at a high price . . .
Imprisoned in an enchanted court in her enemy's kingdom, Feyre is free to roam but forbidden escape. Her captor's body bears the scars of fighting, and his face is always masked – but his piercing stare draws her ever closer. As Feyre's feelings for Tamlin begin to burn through every warning she's been told about his kind, an ancient, wicked shadow grows. Feyre must find a way to break a spell, or lose her heart forever.
Thoughts:
I was so excited to read A Court Of Thorns and Roses. It's Sarah J Maas, so of course…I was expecting awesome. Now, I have to admit that I did put this book down at one point. I wasn't in the right mood to read it. However, this is a book that I'm really glad that I went back to. It's not perfect, and to be honest, I'm more in love with the Throne Of Glass series, but this book is definitely a promising series for Sarah's fans to get their teeth into.
A Court Of Thorns and Roses is clearly a Beauty and The Beast retelling with an even more magical, fantastical edge and a lot steamier than Disney romance 😉 A Court Of Thorns and Roses definitely feels like it's intended for a more mature audience leaning towards New Adult. I thought Feyre was a really interesting character. Sarah J Maas certainly writes some strong female leads. After taking the life of a magical creature, Feyre is captured and held prisoner by Tamlin, the Fae captor. She is allowed to roam the grounds, but she's never allowed to escape. Feyre worries about her family who she cares for a lot, but she also finds herself developing feelings that she never expected.
I can't fault Sarah's writing. I think she's fantastic and there's something so compelling about her writing. I just have to keep reading. I think my initial problem with this book was that it felt incredibly slow to begin with and until nearer the end it definitely felt like more of a romance read than a fantasy read. I'm pretty sure that this book will do amazingly well, as it should, it certainly deserves to.
Would I recommend it?:
Yes!
A little slow with the world building, but a very good reimagining of Beauty and The Beast!