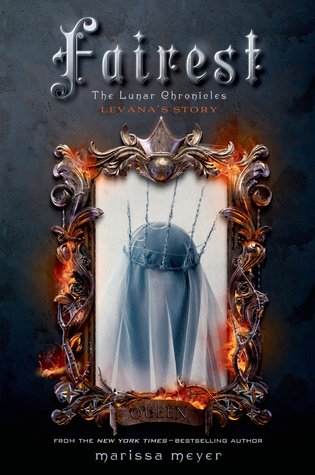 How did I get it?:
I bought it!
Previously reviewed by the same author:
Cinder
Scarlet
Cress
Synopsis:
In this stunning bridge book between Cress and Winter in the bestselling Lunar Chronicles, Queen Levana's story is finally told.
Mirror, mirror on the wall,
Who is the fairest of them all?
Fans of the Lunar Chronicles know Queen Levana as a ruler who uses her "glamour" to gain power. But long before she crossed paths with Cinder, Scarlet, and Cress, Levana lived a very different story – a story that has never been told . . . until now.
Marissa Meyer spins yet another unforgettable tale about love and war, deceit and death. This extraordinary book includes full-color art and an excerpt from Winter, the next book in the Lunar Chronicles series.
Thoughts:
I wasn't sure what I was going to make of Fairest. I'm not the biggest fan of novellas, but I was easily won over with Fairest. I thought it was a great story to bridge the gap between Cress and Winter. I absolutely adored this story. I was torn between giving it four and five stars, but I've gone for five because, in my eyes, there was nothing wrong with it at all.
I seriously believe that The Lunar Chronicles is getting better with every single book. I loved learning more about Levana, who had popped up in the previous books. I had really mixed feelings about Levana. On the one hand I really disliked her and on the other hand I felt really sorry for her. You'll have to read it to see why! I was easily engrossed in this story, and really didn't want it to end… but Winter is coming… soon (ish!)
The romance in this book is creepy, the way Levana manipulates is scary but wonderful at the same time! Even though this book is a novella, I think it really helps to learn more about Levana and somewhat understand the reason why she is how she is, even if you don't agree with her actions. Levana is an amazing villain. I loved this book!
Would I recommend it?:
Without a doubt!
This book gave me mixed feelings about Levana! So worth reading if you love The Lunar Chronicles!