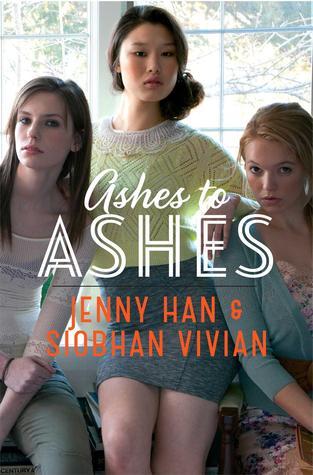 How did I get it?:
I bought it!
Previously reviewed by Jenny Han and Siobhan Vivian:
Burn For Burn
Fire With Fire
Synopsis:
New Year's Eve ended with a bang and Mary, Kat and Lillia may not be prepared for what is to come.
After Rennie's death, Kat and Lillia try to put the pieces together of what happened to her. They both blame themselves. If Lillia hadn't left with Reeve… If Kat had only stayed with Rennie… Things could have been different. Now they will never be the same.
Only Mary knows the truth about that night. About what she is. She also knows the truth about Lillia and Reeve falling in love, about Reeve being happy when all he deserves is misery, just like the misery he caused her. Now their childish attempts at revenge are a thing of the past and Mary is out for blood. Will she leave anything in her wake or will all that remain be ashes?
Thoughts:
I don't want to ruin this book by going into too much depth. I do think this series is well worth exploring, especially if you're into Gossip Girl/ revenge reads. It may not be the most well written book, but I think it's easy to devour and get engrossed in. The only thing preventing me from giving this book four stars was because I felt the ending was incredibly rushed which was a great shame!
Ashes To Ashes starts well with Lilia and Kat trying to move on from what happened at New Years. Mary is coming to terms with what has happened to her. Mary is still seeking revenge, and she won't give up until justice is done! I have absolutely loved reading about Mary throughout this series. I think she's an amazing character. The tension has built throughout the trilogy and I was incredibly excited to read from Mary's point of view for parts of the story.
I guess I was expecting a massive event, and I began to furiously read on eager to find out what was going to happen. It just felt like a bit of a let down considering how suspenseful this story has been over the series. As for one of my favourite characters, Mary, the way in which it ended with her just didn't make sense to me. It was too contrived. A great shame as I've loved this series!
Would I recommend it?:
Yes! 3.5 stars
Despite my disappointment with the ending of this series, I do think it's worth reading if you've read the other two! I do love the paranormal twist!