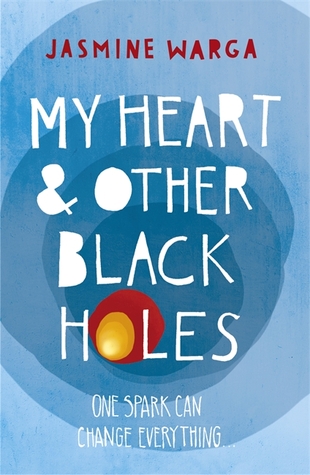 How did I get it?:
I bought it!
Synopsis:
Aysel and Roman are practically strangers, but they've been drawn into an unthinkable partnership. In a month's time, they plan to commit suicide – together.
Aysel knows why she wants to die: being the daughter of a murderer doesn't equal normal, well-adjusted teenager. But she can't figure out why handsome, popular Roman wants to end it all….and why he's even more determined than she is.
With the deadline getting closer, something starts to grow between Aysel and Roman – a feeling she never thought she would experience. It seems there might be something to live for, after all – but is Aysel in so deep she can't turn back?
Thoughts:
I had heard such amazing things about My Heart and Other Black Holes. I was worried that I wasn't going to like it because of that hype monster that often rears its head.
My Heart and Other Black Holes centres around Aysel who is obsessed with plotting her own death. Her father is in jail for a crime that has shocked the town and thus alienated herself from her peers. Aysel knows she's not strong enough to commit suicide by herself, so she goes online to search for a suicide partner. She finds Roman, who is also suffering from the after effects of a family tragedy. They meet up and decide to be suicide partners. As the day looms Aysel starts to have second thoughts, but Roman seems as keen on the idea as ever.
As you might expect from a book with suicide as subject matter, this book isn't an 'easy' read. The descriptions of depression were so realistic. I really understood why Jasmine Warga used the idea of a black slug to represent depression. I liked that the book wasn't all doom and gloom though, there were lighter moments of hope which I really appreciated.
I really loved Aysel. I immediately connected with her and understood why she felt the way she did. I really appreciated that she cared about her family and the aftermath of what suicide would do to them. I also loved it when hope for the future began to creep in. The way she was feeling was captured perfectly. It was so sad, but very realistic. Roman was another great character. I could also understand why he was feeling the way he was and why he couldn't see a way through his problems. I loved the connection they found with one another.
I think Jasmine Warga dealt with this sensitive issue incredibly well. It wasn't easy to read at times, but it was incredibly well written and compelling!
Would I recommend it?:
Of course!
A fantastic, powerful read!