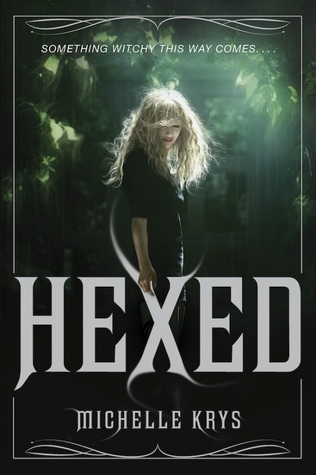 How did I get it?:
I bought it!
Synopsis:
If high school is all about social status, Indigo Blackwood has it made. Sure, her quirky mom owns an occult shop, and a nerd just won't stop trying to be her friend, but Indie is a popular cheerleader with a football-star boyfriend and a social circle powerful enough to ruin everyone at school. Who wouldn't want to be her?
Then a guy dies right before her eyes. And the dusty old family Bible her mom is freakishly possessive of is stolen. But it's when a frustratingly sexy stranger named Bishop enters Indie's world that she learns her destiny involves a lot more than pom-poms and parties. If she doesn't get the Bible back, every witch on the planet will die. And that's seriously bad news for Indie, because according to Bishop, she's a witch too.
Suddenly forced into a centuries-old war between witches and sorcerers, Indie's about to uncover the many dark truths about her life—and a future unlike any she ever imagined on top of the cheer pyramid.
Thoughts:
I had such high hopes for Hexed but unfortunately it fell a little short for me. Don't get me wrong, it was an interesting read and I was intrigued enough to continue reading, but it's not a book that I would highly recommend. I think some readers will very much enjoy this book. It's well written but I found it to be a little too predictable for my liking. I also thought it was a little cheesy in places.
Hexed centres around Indigo who is a popular cheerleader. Her mum is a little quirky and runs an occult shop. Strange things start to happen to Indigo, after a man dies right in front of her. A mysterious guy in a leather jacket keeps on turning up. His name is Bishop…and there's more to him than meets the eye. Indigo begins to learn there's something more about her than she ever imagined!
The characters in this book are going to divide people, that's for sure. I think there are some likeable ones in there, but unfortunately some characters I just could not connect with. Bishop is one of them. He's supposed to be the sexy, mysterious stranger, but he just made me cringe! I also wasn't keen on Indigo's shallowness. I didn't like how she was dismissive of Paige because Paige wasn't popular and was a little nerdy. Indigo was afraid of losing her popularity and I don't like that. ..
This book does have some good points though, which is why I continued to read it. It was fast paced and easy enough to read, it was just the characters that I couldn't connect with. So whilst I personally wouldn't continue with the series, I can see that some readers will totally gobble it up which is why I'm reviewing it!
Would I recommend it?:
It's not for me!- 2.5 stars
Whilst I didn't enjoy this book as much as I wanted to, I think others might! It's fast paced and easy to read!