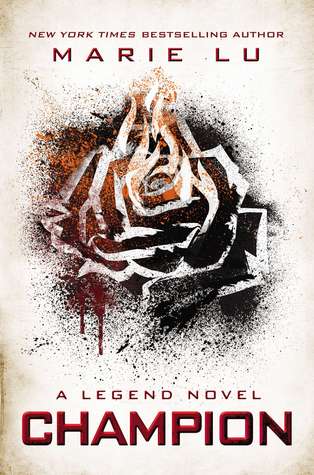 How did I get it?:
I bought it!
Previously reviewed by the same author:
Legend
Prodigy
Synopsis:
He is a Legend.
She is a Prodigy.
Who will be Champion?
June and Day have sacrificed so much for the people of the Republic—and each other—and now their country is on the brink of a new existence. June is back in the good graces of the Republic, working within the government's elite circles as Princeps-Elect, while Day has been assigned a high-level military position.
But neither could have predicted the circumstances that will reunite them: just when a peace treaty is imminent, a plague outbreak causes panic in the Colonies, and war threatens the Republic's border cities. This new strain of plague is deadlier than ever, and June is the only one who knows the key to her country's defense. But saving the lives of thousands will mean asking the one she loves to give up everything.
With heart-pounding action and suspense, Marie Lu's bestselling trilogy draws to a stunning conclusion.
Thoughts:
I have had a hard time with this series. I really loved Legend, wasn't so keen on Prodigy, even though many of my friends enjoyed it. I wanted to finish the trilogy though to see how it was going to end. Despite me not liking this series as much as my blogging friends have, I have found it enjoyable enough to read and fast paced! This trilogy is full of interesting characters so I do think it's worth exploring!
Again, I have trouble reviewing the last book in the series. I don't want to spoil it for anyone that has yet to complete it. Champion takes place several months after the end of Prodigy. June is in training as a Princeps-Elect and Day has moved to San Fransisco with his younger brother. June and Day haven't seen each other since after the events in Prodigy. After the Colonies declare war unless they are given a cure for the plague, June has to seek Day's help. It is believed that Day's brother Eden, holds the cure, but they need Day's permission to use him.
Champion is action packed, but there is time for quieter scenes which I really appreciated. I adore June and Day interactions and their romance felt more real in this book which I very much enjoyed. I felt like I got them a hell of a lot more in Champion. The story itself is fast paced and feels a lot more political than the other books. As for the ending… I wasn't overly impressed but it did wrap the trilogy up nicely and gave some answers to questions raised in the previous books, even if I wasn't totally convinced by the resolutions!
Would I recommend it?:
Yes!
A solid ending to the trilogy which wraps up the story nicely!