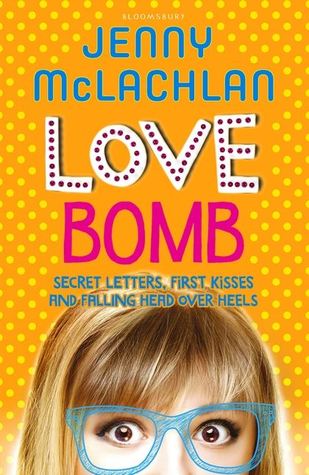 How did I get it?:
I bought it!
Previously reviewed by the same author:
Flirty Dancing
Synopsis:
Betty Plum has never been in love. She's never even kissed a boy. But when H.O.T. Toby starts school it's like Betty has been hit with a thousand of Cupid's arrows. It's like a bomb has exploded – a love bomb!
More than ever Betty wishes her mum hadn't died when Betty was a baby. She really needs her mum here to ask her advice. And that's when she finds hidden letters for just these moments. Letters about what your first kiss should feel like and what real love is all about …
Is Betty ready to fall in love? Will she finally have her first kiss?
Thoughts:
Love Bomb is the perfect book to read when you need a bit of a lighter read. It is so easy to read, with characters that are easily likeable. I found Betty, the main protagonist, in this story very endearing. This story is more of a companion to Flirty Dancing, but I believe it can be read as a standalone. You don't need to know what happened in Flirty Dancing to enjoy Love Bomb. 
Love Bomb follows Betty who is 'different' to the rest of her peers. Betty is a fifteen year old, who is dealing with her widowed father is moving on with a new relationship. Betty also has a massive crush on the new boy, Toby. Betty puts her everything into getting his attention. I'm not sure why, as I thought he was an absolute idiot! You'll have to read it to see if you agree with me!  Love Bomb is a lighter read, but it does have some substance to it. Betty had lost her mother to cancer. Betty's mother had left some letters for Betty, for special events in her life like her first kiss. Betty feels like she's getting to know her mother through these letters.
I am looking forward to reading more in this series and reading from another character's point of view. The characters Jenny McLachlan has come up with are incredibly realistic and I can certainly see that they'll be relatable to many teenagers that will devour this series.
Would I recommend it?:
Yes! 3.5 stars!
A fun, but sensitive read!