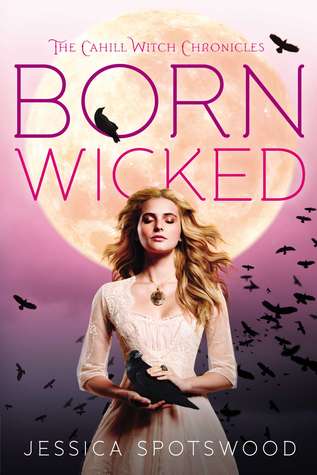 How did I get it?:
I bought it!
Synopsis:
A gorgeous, witchy, romantic fantasy by a debut author! Perfect for fans of Kristin Cashore and the Beautiful Creatures series!
Everybody thinks Cate Cahill and her sisters are eccentric. Too pretty, too reclusive, and far too educated for their own good. But the truth is even worse: they're witches. And if their secret is discovered by the priests of the Brotherhood, it would mean an asylum, a prison ship–or an early grave. Then Cate finds her mother's diary, and uncovers a secret that could spell her family's destruction. Desperate to find alternatives to their fate, Cate starts scouring banned books and questioning rebellious new friends, all while juggling tea parties, shocking marriage proposals, and a forbidden romance with the completely unsuitable Finn Belastra. But if what her mother wrote is true, the Cahill girls aren't safe–not even from each other.
Thoughts:
I have to admit, I judged this book by its cover and thought it was going to be a little cheesy. It does have a slice of cheese in places, but I was unexpectedly blown away by this book and I can't wait to get my hands on the next instalment. Hopefully soon!
Born Wicked is a paranormal read about witches in a time when they are hunted down. They have to pretend to be normal ladies and not draw any attention to their selves. It centres around Cate, who lives with her two sisters and their father. Their mother died, leaving Cate to protect their secret. It involves prophecies which intrigued me greatly and I can't wait to see what happens next. The world is really intriguing and I loved the mystery of the prophecy, the Brotherhood and the Sisterhood.
I absolutely loved Cate as our main protagonist. I loved how protective she was over her sisters, Maura and Tess. Cate has huge responsibilities to protect her sisters. The girls are all witches, but all have different opinions of their gift. Cate has to make some big choices throughout the story in order to protect the family secret. Cate realises the enormity of decisions about the future. The decision needs to protect her sisters and herself. I thought the sisters were well written as well. Tess is the youngest, but is inquisitive about her powers. Maura is more rebellious. I really liked the fiesty side she had to her character. I thought the relationship between them all was so well written. It was real. There were arguments but there was also a fierce sense of protecting one another.
I think one of the things that prevents me from giving this book five stars, is the lack of parental figures. It was sad that they had lost their mother, but to have their father travelling away as well and not knowing of their gifts… was a great shame. I don't really know if their father is going to become more relevant in the story, to me it felt like the girls were certainly on their own.
This wouldn't be a YA book without a love interest and there's a bit of a triangle going on. I don't mind a bit of romance in the stories I read, but I can imagine it would frustrate some other readers. Luckily enough, I think one of the characters was an absolute idiot so I wasn't torn with who Cate should choose. She was also very much into putting her sisters before any guy and that has to be applauded! 😉
I am really looking forward to reading the next book in the series.
Would I recommend it?:
Of course!
I thoroughly enjoyed this book!  Highly recommended if you love witchy reads!