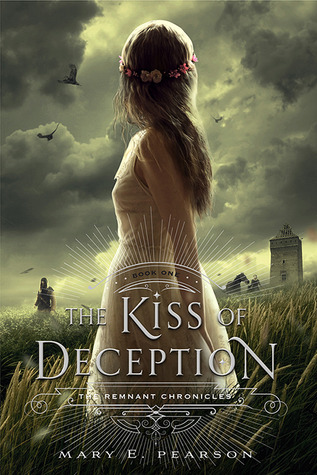 How did I get it?:
I bought it!
Synopsis:
A princess must find her place in a reborn world.
She flees on her wedding day.
She steals ancient documents from the Chancellor's secret collection.
She is pursued by bounty hunters sent by her own father.
She is Princess Lia, seventeen, First Daughter of the House of Morrighan.
The Kingdom of Morrighan is steeped in tradition and the stories of a bygone world, but some traditions Lia can't abide. Like having to marry someone she's never met to secure a political alliance.
Fed up and ready for a new life, Lia flees to a distant village on the morning of her wedding. She settles in among the common folk, intrigued when two mysterious and handsome strangers arrive—and unaware that one is the jilted prince and the other an assassin sent to kill her. Deceptions swirl and Lia finds herself on the brink of unlocking perilous secrets—secrets that may unravel her world—even as she feels herself falling in love.
Thoughts:
The Kiss of Deception has been highly recommended to me so many times over the last few months, especially because I'm more into YA Fantasy reads now. I was excited to get to it, but at the same time a little worried. That hype monster often takes over and I don't enjoy it as much as everyone else. However, I enjoyed The Kiss of Deception much more than I expected to. I can't wait to read the sequel!
The Kiss of Deception is the first book in Mary E. Pearson's Remnant Chronicles series. I haven't read anything by Mary before, although I do have one of her books on my kindle just waiting to be read. I'm glad that this book was my introduction to Mary's writing! It's not the perfect book and at times it does feel a little long, but I thought it was a great YA fantasy read. The Kiss of Deception is full of drama, action and intrigue and of course… romance.
I'm all about strong female characters and Princess Lia is exactly that. She's a tough girl determined to live her life the way she wants and not the way that is dictated to her. Lia is a First Daughter, much like her mother. A gift of seeing and predicting the future is supposed to be bestowed upon First Daughters but Lia is not showing any signs of it. Lia decided to flee instead or enter into an arranged marriage with the Prince. Lia leaves with her maid and leaves everything behind in order to live a life that she wants. Lia and Pauline (her maid) end up in a quiet village where Lia decides to work, hoping to make a new future for herself. The Kiss of Deception is mainly narrated by Lia, but we also hear from The Prince and The Assassin. We do find out the names of them both but it is not until near the end of the book that we find out which one is the Prince and which one is the Assassin. Lia gets to know them both well, never realising they are all lying about their true identities.
I'm not a massive fan of love triangles, but in this book they work. The love triangle twist is interesting. There are some cute moments but they're not overly cheesy, which I was happy to read! Lia genuinely cares about both guys in this story, but her feelings go deeper for one.
The Kiss of Deception does have elements of fantasy, but I wouldn't say it's fantasy heavy. So if you're not into fantasy reads, please don't disregard this book! The story ends with a wicked cliffhanger and I can't wait to find out what happens next!
Would I recommend it?:
Of course!
I loved this book! I can't wait to see how the world continues to build.