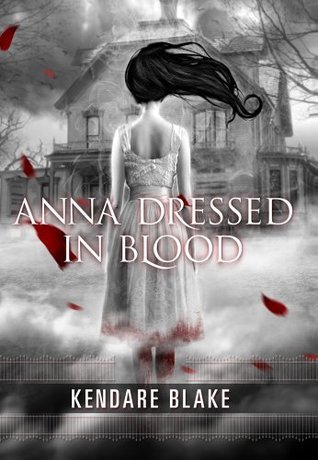 How did I get it?:
I bought it!
Synopsis:
Cas Lowood has inherited an unusual vocation: He kills the dead.
So did his father before him, until he was gruesomely murdered by a ghost he sought to kill. Now, armed with his father's mysterious and deadly athame, Cas travels the country with his kitchen-witch mother and their spirit-sniffing cat. They follow legends and local lore, destroy the murderous dead, and keep pesky things like the future and friends at bay.
Searching for a ghost the locals call Anna Dressed in Blood, Cas expects the usual: track, hunt, kill. What he finds instead is a girl entangled in curses and rage, a ghost like he's never faced before. She still wears the dress she wore on the day of her brutal murder in 1958: once white, now stained red and dripping with blood. Since her death, Anna has killed any and every person who has dared to step into the deserted Victorian she used to call home.
Yet she spares Cas's life.
Thoughts:
I have had this book on my radar for a long time now, so I was pleased to get around to it during my latest series binge read! I really enjoyed this book, and that's coming from someone who doesn't tend to always enjoy creepy reads.
Anna Dressed In Blood centres around our two main characters Cas and Anna. It's so refreshing to read a male point of view in a Young adult piece of literature. All too often the female protagonist dominates, so it really was a breath of fresh air to read from a male viewpoint. Cas is a 17 year old boy who kills those that should have remained dead. Cas carries a weapon that sends the spirits that are causing trouble on to where they should have been when they died. Cas has inherited this skill from his father who has recently been murdered. Cas doesn't really have any friends, as he embraces his job as a ghost hunter and doesn't care about making friends. He often moves across the country with his mother in order to track down the ghosts he needs to kill. Although his father is absent, Cas's mother is incredibly supportive of Cas's calling. Anna is an angry ghost, who has been cursed and therefore can't leave her house. She is known as Anna Dressed in Blood… because of the white dress with blood splattering (and dripping) all over it and also, because anyone that crosses Anna ends up torn apart. Cas ends up attempting to kill Anna, but Anna proves to be a challenge. She's the strongest ghost he has met. Cas ends up getting to know Anna better and realises there's more to her than meets the eye, and some seriously bad things happened to her in her life!
This book was creepy, but not terrifying, so if you're not a fan of horror reads then I wouldn't necessarily steer clear of this book. I think if you're a horror fan then you definitely need to go into this book realising that there are some quite cliche horror moments. The whole abandoned house/going to the neglected house on a dare has of course been done before, so it's not overly original. However, I really enjoyed the funny moments included in the book. I thought there were some great characters, good pacing and good story development.
Would I recommend it?:
Yes!
Anna Dressed In Blood is much more paranormal romance than horror, but it's definitely worth a read!