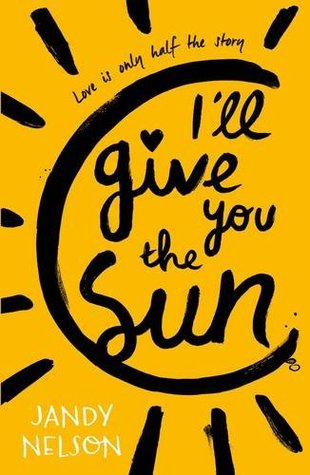 How did I get it?:
I bought it!
Synopsis:
Jude and her twin Noah were incredibly close – until a tragedy drove them apart, and now they are barely speaking. Then Jude meets a cocky, broken, beautiful boy as well as a captivating new mentor, both of whom may just need her as much as she needs them. What the twins don't realize is that each of them has only half the story and if they can just find their way back to one another, they have a chance to remake their world.
Thoughts:
This is going to be a tough book to review. I had such high expectations for it, having loved The Sky is Everywhere by Jandy Nelson. I have to admit that I went into it perhaps too high expectations, so I was left feeling a little let down. That's not to say that I didn't enjoy the book. I did. It just wasn't the 4-5 star read that I thought it was going to be. There's no denying that Jandy's writing is fantastic.
I'll Give You The Sun follows Jude and Noah, twins that used to be incredibly close. We follow them at different times in their lives. Noah is coming to terms with his sexuality. He feels the relationship with his sister Jude is changing. She's changed and Noah is finding that hard to deal with. The change in their relationship comes after a tragic family event, which the twins are finding very hard to deal with. The story switches to follow Jude three years later when her relationship with Noah is strained. They're both different people now. Jude tends to shut herself off frrom everyone else and has some very strange rituals that Noah just can't understand.
The narration does jump from Jude and Noah but I felt like it was seamless. It made sense.
Jude and Noah are not easy to understand and connect with straight away. Jude really stands out to me as one of the most unique characters that I've read. I don't know whether that's unique in a good way or not, but she's certainly unlike any character that I've ever read about.
This book does include a lot of art, whilst I don't really have a personal connection with art, it really didn't matter. Jandy's writing makes you want to learn more about art. She makes you enthusiastic about it. The theme runs through the book, as both characters have an interest in art. I have to say in this book it works! Jandy's writing in itself is incredibly artistic, so it's a good fit.
I'll Give You The Sun may have taken me a while to get into and adapt to the writing style, but I do think it's worth a read.
Would I recommend it?:
Yes!
Jandy Nelson's writing is beautiful, but takes some time to get used to. This book is worth checking out!