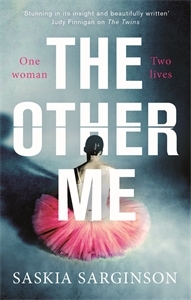 How did I get it?:
NetGalley- thanks to Little, Brown!
Synopsis:
Eliza Bennett has the life she's always dreamed of.
She's who she wants to be, and she's with the man she loves.
But Eliza is living a lie. Her real name is Klaudia Meyer.
And Klaudia is on the run. She's escaping her old life, and a terrible secret buried at the heart of her family.
This is the story of Eliza and Klaudia – one girl, two lives and a lie they cannot hide from.
Psychological and suspenseful: the gripping story of one girl living a double life.
Thoughts:
I wasn't really sure what to expect when I picked up my copy of The Other Me. I had previously read and enjoyed The Twins by the same author, so I knew it was going to be good. I have to admit, the first thing that drew me to this book was the beautiful cover. If you know me at all, you'll know that I'm passionate about dance (although I can't dance myself!) I love to watch dancing, I love to read about dancing and I adore photos of beautiful dance work. So the cover really was its selling point for me. I wasn't expecting such an intense, thought provoking read.
The Other Me tells a story of Klaudia who has changed her identity to attempt to hide from her family's past. Klaudia is an only child, daughter of Otto and Gwyn Meyer. The story starts with the reader learning about Klaudia she she starts secondary school in the '80s. Prior to secondary school, Klaudia was home schooled, so she's nervous to make friends. Klaudia finds herself ashamed of her father who is German, and works as a caretaker at her secondary school. Klaudia is ashamed of him, as she learns that her peers call her father a Nazi. Klaudia wants to learn more about her family history and worries that the taunts of her peers may have some substance. As the story progresses, we hear from Klaudia who is living life in Leeds as Eliza, a dancer. Even though Klaudia leaves her past behind it always haunts her. As well as the story from Klaudia/Eliza we also learn about the story of Ernst, Klaudia's father's brother. At the heart of The Other Me is a story about identity and finding out who we really are, no matter what our past.
I thought this was an incredibly well written story. I found it utterly engrossing and once I picked it up, it was hard to put down again. This book is well worth exploring. I thoroughly enjoyed reading it and didn't expect to love it so much.
Would I recommend it?:
Without a doubt!
The Other Me is a gem! One of my favourite books of the year so far!