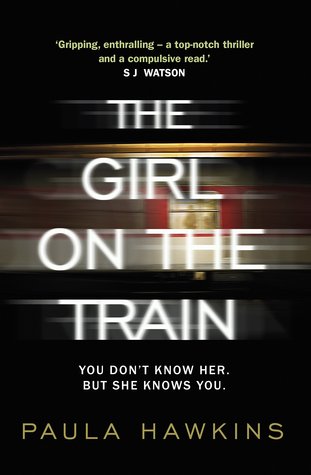 How did I get it?:
I bought it!
Synopsis:
Rachel takes the same commuter train every morning. Every day she rattles down the track, flashes past a stretch of cozy suburban homes, and stops at the signal that allows her to daily watch the same couple breakfasting on their deck. She's even started to feel like she knows them. "Jess and Jason," she calls them. Their life—as she sees it—is perfect. Not unlike the life she recently lost.
And then she sees something shocking. It's only a minute until the train moves on, but it's enough. Now everything's changed. Unable to keep it to herself, Rachel offers what she knows to the police, and becomes inextricably entwined in what happens next, as well as in the lives of everyone involved. Has she done more harm than good?
A compulsively readable, emotionally immersive, Hitchcockian thriller that draws comparisons to Gone Girl, The Silent Wife, or Before I Go to Sleep, this is an electrifying debut embraced by readers across markets and categories.
Thoughts:
I always feel a bit apprehensive when a book is compared to the hugely successful Gone Girl It seems like most psychological thrillers since Gone Girl are now compared to it. It gets a bit old. Yet, I was really excited to read The Girl On The Train because I had heard it was a great book. I'm really glad I read it. It wasn't my favourite thriller, but it was still bloomin' good and I tore through it in no time at all.  When I looked up this book on Goodreads, I noticed my friends have rated it really highly. I can see why. It's an intense thriller that does keep you turning the pages. However, for me it wasn't quite the four/five star read that many are giving it. It IS worth a read though.
The Girl On The Train follows three points of view. Rachel is always on the train every day and every single day, the train stops at a signal. Rachel has been watching a couple every single day and makes up stories for them. One day, Rachel notices something that doesn't quite add up and finds herself tangled up in all kinds of drama. As readers, we start to believe that she has done more harm than good.
I don't really want to say much about the plot, because I don't want to spoil it for those that haven't read it yet. It is quite a typical thriller plot, but don't let that put you off. It certainly kept me interested and although my suspicions were confirmed with whodunnit, it didn't put me off.
It was interesting, in this case, to read from three different points of view. Each had a different take on what happened, but I didn't find any of the character's reliable. I do like an unreliable character. I didn't know who or what to believe in this story and I loved that.
The reason why I couldn't really rate this book as highly as most is because of the ending. I just felt like it fell a little flat after such an intriguing beginning and middle! I do look forward to whatever Paula Hawkins writes next. It'll be interesting to read something else by her as this book is a very promising debut.
Would I recommend it?:
Yes! 3.5 stars
A decent pyschological thriller, definitely a must for fans of the genre!