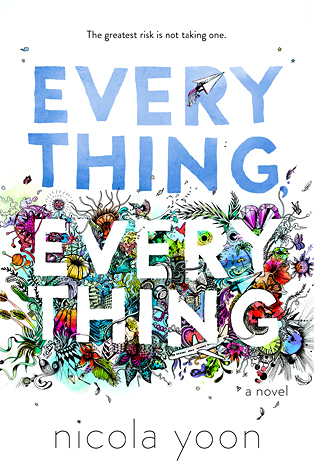 How did I get it?:
NetGalley- thanks to Penguin Random House
Synopsis:
My disease is as rare as it is famous. Basically, I'm allergic to the world. I don't leave my house, have not left my house in seventeen years. The only people I ever see are my mom and my nurse, Carla.
But then one day, a moving truck arrives next door. I look out my window, and I see him. He's tall, lean and wearing all black—black T-shirt, black jeans, black sneakers, and a black knit cap that covers his hair completely. He catches me looking and stares at me. I stare right back. His name is Olly.
Maybe we can't predict the future, but we can predict some things. For example, I am certainly going to fall in love with Olly. It's almost certainly going to be a disaster.
Thoughts:
Oh my goodness… this book!!!! I'm really torn whether to give it four or five stars, so don't mind me whilst I work out my feelings as I progress through this review. I could just pretend it wasn't a struggle to rate it, (there's a big difference between four or five stars for me!) I'm honest here on my blog, and this book really has divided me with its rating. I had heard that Everything Everything was an incredible book, so of course I worried about that dreaded hype monster. All too often, I don't like books as much as everyone else did. As soon as I started Everything Everything I knew that I was going to like it. It's got an engaging storyline, the chapters are short and some of the story is told through instant messaging conversations. But first, let me try to explain a bit about the story without spoiling it because THERE IS A PLOT TWIST and… I DIDN'T see it coming. I kept trying to guess what was going on but I was wrong and I love that.
Everything Everything centres around Madeline who lives her life in a protective bubble because she is allergic to the world. Madeline suffers from a rare disease called SCID which means she is allergic to a lot of things outside. The only people she has regular contact with are her mother (who is a doctor) and her nurse Carla. Madeline is used to living in such a way. She's a massive bookworm (LOVE!)  and spends her time living life through the characters in her books. Madeline gets some new neighbours and is immediately drawn to Olly, who she finds has a tricky family background as well. Madeline and Olly get to know each other through instant messaging and Madeline realises she wants to meet him for real, no matter how much of a risk it is!
The romance in this book is absolutely adorable. It never felt cheesy or forced. Just damn cute! I thought Madeline and Olly were great characters. I loved their banter, I loved their interactions and I adored their dedication to one another. Another relationship that I adored was Carla and Madeline. It was clear to me that Carla really cared for Madeline. It was a very endearing relationship.
The storyline itself is good and fast moving. As I mentioned, I thought I had predicted exactly what was going to happen and I was wrong! I'm all for unpredictable books. The writing is really engaging, I couldn't put it down and ended up reading this book into the early hours. I'm really looking forward to reading whatever Nicola Yoon puts out next, and I really hope this book gets the recognition it deserves.
The reason why I'm not sure about giving it five stars, is that there are some plot holes that makes me want to NOT give it 5 stars. One of the biggest plot holes is about something I can't discuss because SPOILERS and I don't do spoilers, but it kind of frustrated me. Don't let that put you off though, I'm pretty sure everyone is going to have such divided opinions about the ending. There's so much to be discussed!
Would I recommend it?:
Of course! 4.5 stars (Yes, I went for the in-between- couldn't ignore the flaws, but couldn't discredit the awesomeness of the book!)
An amazing debut novel from Nicola Yoon. I want to read more from her!