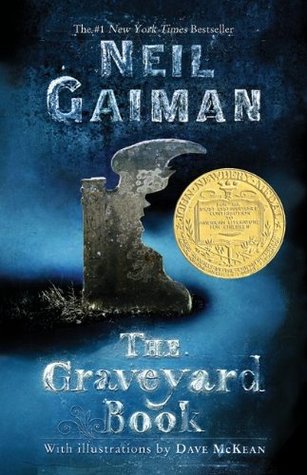 How did I get it?:
I borrowed it from Beth!
Synopsis:
After the grisly murder of his entire family, a toddler wanders into a graveyard where the ghosts and other supernatural residents agree to raise him as one of their own.
Nobody Owens, known to his friends as Bod, is a normal boy. He would be completely normal if he didn't live in a sprawling graveyard, being raised and educated by ghosts, with a solitary guardian who belongs to neither the world of the living nor of the dead. There are dangers and adventures in the graveyard for a boy. But if Bod leaves the graveyard, then he will come under attack from the man Jack—who has already killed Bod's family . . .
Thoughts:
This is my first experience reading a book by Neil Gaiman. I know, I know it's so bad!!! However, I was really excited to finally get around to reading a book by an author who I know a lot of people adore. The Graveyard Book is a unique, atmospheric read. I absolutely adored the illustrations!
The Graveyard Book centres around a young boy whose family is murdered by a man all dressed in black. For some reason, the toddler is able to escape and finds his way into a graveyard. The ghosts in the graveyard take in the boy, and raise him as their own. They call him Nobody, affectionately known as 'Bod.' The Owens couple are his main carers, but they are not allowed to leave the graveyard, so he is under the guardianship of Silas who is not dead or alive. He is able to leave the graveyard to get food for Bod. Bod learns things through the graveyard, but as he grows up, he realises that there is danger lurking outside the graveyard and he needs to face up to his past in order to move forward.
As I mentioned, The Graveyard Book is such a unique read. There are such wonderful characters throughout who are easy to love (or hate- Neil Gaiman can write wonderful villains!)
Whilst I was reading this book, I was wondering what age I would pitch this book at, if I had to, some say YA, some say children, some say middle grade! I'm really not sure. It's a book that I think would terrify some children. Some of the writing is quite creepy and sinister, but at the same time a lot of children like to be scared! I really think this book is a book that adults would enjoy as well. It's very clever.
For Beth's review please check out her wonderful post HERE
Would I recommend it?:
Yes!
Reading next in the Beth and Chrissi do Kid-Lit Challenge (September):
Watership Down- Richard Adams