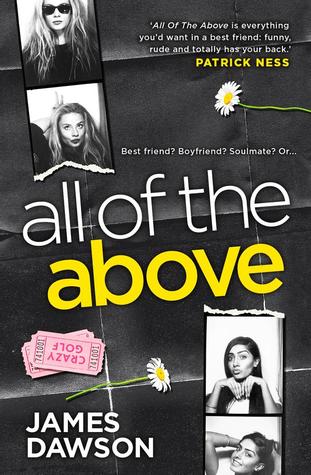 How did I get it?:
NetGalley- thanks to Hot Key Books/Bonnier Publishing
Previously reviewed by the same author:
Hollow Pike
Cruel Summer
Say Her Name
This Book Is Gay
Under My Skin
Synopsis:
When sixteen-year-old Toria Bland arrives at her new school she needs to work out who her friends are in a crazy whirl of worry, exam pressure and anxiety over fitting in. Things start looking up when Toria meets the funny and foul-mouthed Polly, who's the coolest girl that Toria has ever seen. Polly and the rest of the 'alternative' kids take Toria under their wing. And that's when she meets the irresistible Nico Mancini, lead singer of a local band – and it's instalove at first sight! Toria likes Nico, Nico likes Toria, but then there's Polly…love and friendship have a funny way of going round in circles.
Thoughts:
I'm not going to lie, I'm a MASSIVE fan of James Dawson's writing. He is one of my auto buy authors, so when I was able to read a copy of All Of The Above early I quickly made time for it. I feel like this book is a different book for James Dawson, but different in a good way. There's certainly more of an emotional element to it. It feels a lot deeper than his other books. There are some wonderfully funny, laugh out loud moments in All Of The Above. It didn't take me long to read at all. I'm really intrigued to see what James writes next as he surprises me with every book release!
All Of The Above centres around Toria, who has to move to a new school after her father changes his job. Toria has to find new friends. Toria finds herself drawn to Polly and her 'alternative' friends. She soon fits in with the group. Toria is attracted to Nico who is in a local band. There is insta-love… not one of my favourite things, but in this book it actually made me laugh, especially when the author addresses book bloggers hate of insta-love! James has been paying attention! 😉 Toria finds her friendship with Polly confusing, All of The Above explores friendship, love, mistakes and finding out who you are.
One of the strongest elements of Jame Dawson's writing for me is his characterisation. He writes incredibly realistic characters who are easy to relate to or at least identify with in some way. I really appreciated how All Of The Above expresses that it's okay to not label yourself and not be totally sure of who you are. It's certainly something that isn't always clear to many people and I liked that this book addressed that.
It's not a really cheesy story. It's real. It's about issues that many of us experience as we grow up. It covers such a wide range of subjects like friendships, first love, self-harm, sexuality… there's so many sensitive subjects that are covered throughout which is why I think anyone, young adult or adult, can take something away from this book.
Would I recommend it?:
Of course! 4.5 stars
Another brilliant, but different book from James Dawson! I highly recommend you reading this author if you haven't yet!