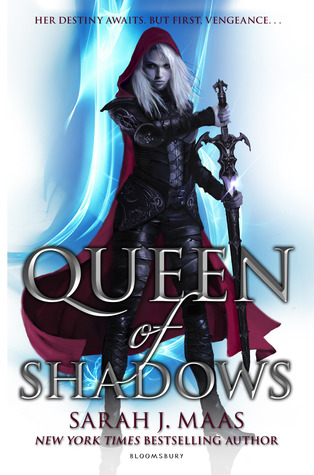 How did I get it?:
It was a gift!
Previously reviewed by the same author:
The Assassin's Blade
Throne of Glass
Crown of Midnight
Heir of Fire
A Court Of Thorns and Roses
Synopsis:
Everyone Celaena Sardothien loves has been taken from her. But she's at last returned to the empire—for vengeance, to rescue her once-glorious kingdom, and to confront the shadows of her past . . .
She will fight for her cousin, a warrior prepared to die just to see her again. She will fight for her friend, a young man trapped in an unspeakable prison. And she will fight for her people, enslaved to a brutal king and awaiting their lost queen's triumphant return.
Celaena's epic journey has captured the hearts and imaginations of millions across the globe. This fourth volume will hold readers rapt as Celaena's story builds to a passionate, agonizing crescendo that might just shatter her world.
Thoughts:
It is so fricking hard to review a fourth book in the series, especially when you don't want to spoil the book or the previous books in the series. So I shall try and keep this review brief and as spoiler free as I can. Queen Of Shadows is a beast of a book, it took me so long to read as I am incredibly busy right now. I did enjoy Queen Of Shadows, but I have to admit, my love of this series is somewhat waning a little. I don't know if it's because the books are so long, I kind of feel that it drags on for more than is necessary at points. Sarah J Maas' writing is amazing, and I think I shall be continuing the series, I just wish the books weren't so long!
I don't want to describe too much of the plot because of spoilers, so what I will say is that this book is action packed, especially with fighting scenes. So if you're looking for blood shed, then Queen Of Shadows is definitely for you. There are some new characters to get to grips with, if you're looking for some new characters to explore. Some of the older characters like Manon and Lysandra get more time in Queen Of Shadows. We also get to read more about some of the older characters which I loved (but I felt like there wasn't enough of them…). I feel like our kick ass protagonist has changed a lot from the first book, which is good- character development is brilliant, but I'm not sure she's developing in a way in which I enjoy!
I apologise for this rather vague review but it's hard to review a fourth book in a series without completely spoiling it. Feel free to leave me a link to your reviews or leave a comment on your thoughts of the series. I'm intrigued to see if anyone else is feeling the same way about this series.
Would I recommend it?:
Yes! 3.5 stars
This book felt too long for me, but it is full of action, and of course… well written!