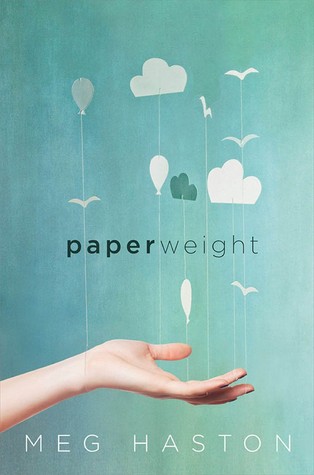 How did I get it?:
It was a gift from my sister, Beth
Synopsis:
Seventeen-year-old Stevie is trapped. In her life. In her body. And now in an eating-disorder treatment center on the dusty outskirts of the New Mexico desert.
Life in the center is regimented and intrusive, a nightmare come true. Nurses and therapists watch Stevie at mealtime, accompany her to the bathroom, and challenge her to eat the foods she's worked so hard to avoid.
Her dad has signed her up for sixty days of treatment. But what no one knows is that Stevie doesn't plan to stay that long. There are only twenty-seven days until the anniversary of her brother Josh's death—the death she caused. And if Stevie gets her way, there are only twenty-seven days until she too will end her life.
In this emotionally haunting and beautifully written young adult debut, Meg Haston delves into the devastating impact of trauma and loss, while posing the question: Why are some consumed by their illness while others embark on a path toward recovery?
Thoughts before you started reading Paperweight?
CHRISSI: I'd heard some great things about it, so couldn't wait to get stuck into it!
LUNA: Chrissi picked this out and it was one of the books that Hot Key Books talked about at their Blogger Event earlier this year. I remember being intrigued.
What did you think of Stevie?
CHRISSI: It took me a while to warm to her, but I ended up completely understanding her and really felt with Paperweight the reader goes on a 'journey' with Stevie
LUNA: I found Stevie to be very convincing and it many ways relatable. She does not want treatment. She has a plan, "Twenty-seven days to freedom…" so Paperweight begins and they have put Stevie in a cage. She is angry.
Much of Meg Haston's book is character driven, largely by Stevie and how she slowly opens up to people at the treatment centre.
Best bit?
CHRISSI: I loved that this book didn't offer an instant solution. Stevie takes a while to open up to people at the treatment centre and I appreciated that her recovery wasn't portrayed as instant. It's much more realistic for it to be a 'journey'. Gosh, I hate using that word, but it's so true in this case!
LUNA: The fact that this this book did not do a 'flip and it's all okay now'. I find that very frustrating in a lot of these stories. They'll have characters who'll turn a corner making them instantly better or they are suddenly cured at the end. While I understand that showing positive outcomes can be good thing when dealing with tough subjects, I do think that reality doesn't tend to work so neatly (speaking from my personal experience here) and with Paperweight I feel like Meg Haston has got a better balance.
Worst bit?
CHRISSI: Paperweight is an incredibly intense read, so although I thought it was a fantastic read, it wasn't exactly an enjoyable reading experience. The book covers a lot of intense issues from many young teens. It's heartbreaking. I would definitely issue a warning to those that may be sensitive to the subjects covered in Paperweight. 
LUNA: Not as in 'didn't like' but Paperweight is not easy reading. It's emotional and heavy. I do mean heavy. The treatment centre is for girls with eating disorders but Meg is basically using her eating disorder to commit suicide. There is abuse, depression, abandonment, a whole range of tough topics. So yes I recommend this book but I also feel like it should come with a warning, because it takes a lot out of you.
Favourite character/moment?
CHRISSI: My favourite moments in the book was when the relationships started to develop. I really liked how Stevie began to build a friendship with her roommate. I also found the interactions between Anna and Stevie. The support from mental health professionals was overwhelmingly positive and I appreciated it being represented in such a way.
LUNA: I really liked Shrink (aka Anna). Again, way too often I see mental health professional get represented as caricatures or useless. Here that's not the case. Stevie's whole treatment team is there to help her. She might not want it but she needs it.
Was Paperweight what you expected?
CHRISSI: It was intense, like I thought it would be!
LUNA: It was better. 🙂
Would you recommend it?
CHRISSI: Of course!
LUNA: Absolutely