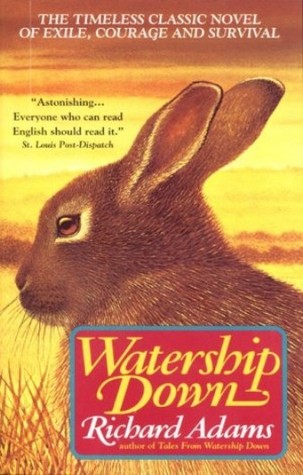 How did I get it?:
I bought it!
Synopsis:
Set in England's Downs, a once idyllic rural landscape, this stirring tale of adventure, courage and survival follows a band of very special creatures on their flight from the intrusion of man and the certain destruction of their home. Led by a stouthearted pair of friends, they journey forth from their native Sandleford Warren through the harrowing trials posed by predators and adversaries, to a mysterious promised land and a more perfect society.
Thoughts:
I had never read Watership Down before, but I of course, have heard lots of things about it and its sadness. Being a rabbit lover myself I was worried that this book was going to go well with me. I'm a sensitive soul! Watership Down is a rather long book with my copy being over 500 pages. I have to admit, I think that's daunting to so many children. I know when it arrived and I had seen the size of it, I worried!! However, Watership Down is incredibly easy to read, and whilst it took me over 100 pages to get invested in the story, I still found myself completely charmed by the talking rabbits!
Watership Down opens with a rabbit named Fiver having a premonition about death and destruction. Fiver's brother, Hazel, is concerned about the premonition so he decides to lead a group of rabbits out into the wider world hoping they can move to a better place and start again. Of course, there are dangers around in the wider world. The rabbits need to bring in some female rabbits, but this also carries with it more dangers from humans, predators and other rabbits.
I love how innocent this book is. The rabbits have no idea about how dangerous humans are to them. I loved how what mattered to the rabbits was having a connection and a friendship with others in troubled times. What a lovely message to send!
I also appreciated that Richard Adams clearly did some research about the behaviour of rabbits. These rabbits aren't dressed up animals who act like humans. They behave like rabbits!
As I mentioned, I do think this book is a little daunting given its size, but it's so easy to read and simple! For Beth's review, please check out her wonderful blog HERE.
Next up in the Beth and Chrissi do Kid-Lit Challenge (October):
Goodnight Mister Tom- Michelle Magorian