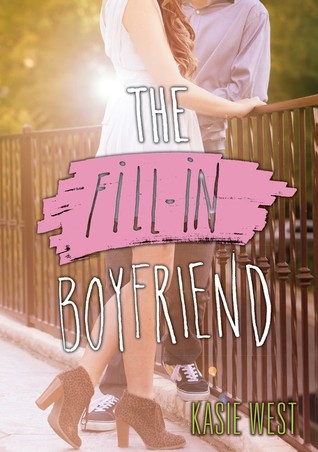 How did I get it?:
I bought it!
Previously reviewed by the same author:
Pivot Point
Split Second
The Distance Between Us
On The Fence
Synopsis:
When Gia Montgomery's boyfriend, Bradley, dumps her in the parking lot of her high school prom, she has to think fast. After all, she'd been telling her friends about him for months now. This was supposed to be the night she proved he existed. So when she sees a cute guy waiting to pick up his sister, she enlists his help. The task is simple: be her fill-in boyfriend—two hours, zero commitment, a few white lies. After that, she can win back the real Bradley.
The problem is that days after prom, it's not the real Bradley she's thinking about, but the stand-in. The one whose name she doesn't even know. But tracking him down doesn't mean they're done faking a relationship. Gia owes him a favor and his sister intends to see that he collects: his ex-girlfriend's graduation party—three hours, zero commitment, a few white lies.
Just when Gia begins to wonder if she could turn her fake boyfriend into a real one, Bradley comes waltzing back into her life, exposing her lie, and threatening to destroy her friendships and her new-found relationship.
Thoughts:
There's something about Kasie West's contemporary books that I really enjoy. Although I read this book at the start of summer (not sure when this will publish!) it's definitely a book that you could read all year round for that warm summery feeling. Whilst this isn't my favourite Kasie West book, I still thought it was highly enjoyable and very easy to read.
The book starts in a car park, where our main protagonist Gia is getting dumped by her boyfriend. Gia panics because she has been speaking about her boyfriend for months now, but her friends didn't believe her. Gia quickly enlists the help of a random boy in the car park. He agrees to fill in for her boyfriend Bradley, but that causes all sorts of trouble, when Gia actually finds herself falling for him. I didn't find the fill in boyfriend bit very believable at all, but go with it, and if you can get past that, the story itself is very cutesy.
Gia isn't an easy character to like from the beginning. She does come across as very shallow and full of herself. Like any Katie West book though, she grows and realises what's more important in life. She learns the value of real, true friends and tries to stop impressing everyone or worrying about her popularity.
I think this book is a quick, fun read. It didn't take me long to read at all and whilst I mentioned it wasn't my favourite book by Kasie West, it is still a great read for fans of the genre!
Would I recommend it?:
Yes! 3.5 stars
A cutesy read. Perfect for fans of the genre!