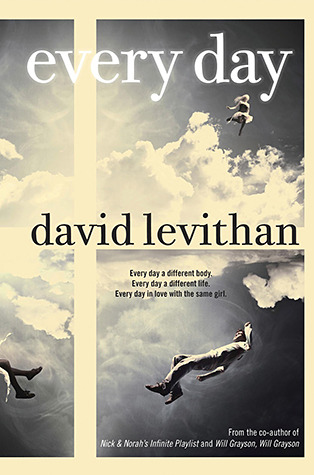 How did I get it?:
It was a present!
Previously reviewed by the same author:
Dash and Lily's Book of Dares
Two Boys Kissing
Marly's Ghost
Synopsis:
Every day a different body. Every day a different life. Every day in love with the same girl.
There's never any warning about where it will be or who it will be. A has made peace with that, even established guidelines by which to live: Never get too attached. Avoid being noticed. Do not interfere.
It's all fine until the morning that A wakes up in the body of Justin and meets Justin's girlfriend, Rhiannon. From that moment, the rules by which A has been living no longer apply. Because finally A has found someone he wants to be with—day in, day out, day after day.
Thoughts:
I had heard so much about Every Day but for some reason had not got around to reading it. I'm so glad that I have read it now because I thought it was a beautiful book that's so well written. It does have its faults though. I definitely think David Levithan is an author you really like, or an author you don't really connect with. His writing style is so unique. His books always seem quite philosophical and deep, questioning things that don't usually get questioned.
Every Day centres around A, we never find out if A is female or male. A has no gender, no body and we also never find out A's sexuality. A just wakes up in a different body every morning and has to live their life for that day. At midnight, A is whisked away into another body to repeat the process again. Although A has no specified gender, as you continue to read, you assume that A is male. A tries not to interfere with other's lives, until he is in the body of Rhiannon's boyfriend, Justin. He falls in love with Rhiannon and begins to find ways to be with her every day even though he is in other people's bodies.
This isn't a case of insta love though, well not on Rhiannon's part. Rhiannon takes a while to come around to the idea of A. Deep down she knows a relationship can't work if the person isn't in the same body every day. This book really is a different romance, a very fantastical romance.
This book is clever though and poses so many questions about what it is to be human. It never really gives answers to the questions, because we don't know the answers. It's fun to explore. The reason why I didn't rate this book five stars, was because I felt it was trying to push a lot of the unique types of people into one book. We read about lesbians, transgender, drug abusers and a suicidal teenager to name a few. It's interesting to see this represented, but I have to admit, it felt a little forced. It didn't need to do this to be a stunning book.
I can imagine that my sister, as a scientist, will really ponder the questions about human nature that this book throws into question. It's certainly intriguing to me with an interest in philosophy. Thoughts about human nature aside, this book is well worth reading. It's an interesting concept which I think has been executed very well!
Would I recommend it?:
Of course!
A beautifully written book with a very intriguing concept!