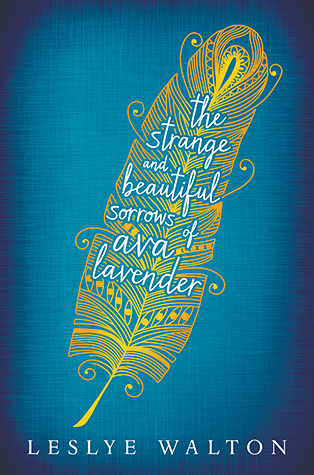 How did I get it?:
I bought it!
Synopsis:
Foolish love appears to be the Roux family birthright, an ominous forecast for its most recent progeny, Ava Lavender. Ava—in all other ways a normal girl—is born with the wings of a bird.
In a quest to understand her peculiar disposition and a growing desire to fit in with her peers, sixteen-year old Ava ventures into the wider world, ill-prepared for what she might discover and naïve to the twisted motives of others. Others like the pious Nathaniel Sorrows, who mistakes Ava for an angel and whose obsession with her grows until the night of the Summer Solstice celebration.
That night, the skies open up, rain and feathers fill the air, and Ava's quest and her family's saga build to a devastating crescendo.
Thoughts:
I wasn't sure what to expect when I picked up The Strange And Beautiful Sorrows of Ava Lavender. I'm not ashamed to say it was the stunning, but simple cover that drew me to the book in the first place. Then I read the words 'magical realism' connected to this book and I knew that I had to read it. It was a no brainer really. I didn't expect this book to be as based on Ava's family history as it was. That's not a negative comment, I just expected to learn more about her. It didn't affect my overall enjoyment of the story though.
The Strange and Beautiful Sorrows of Ava Lavender is a story which spans generations. The reader learns about Ava's grandmother, her mother and Ava herself. It really does focus on the tragedies in their lives. It was also really interesting to read about how their stories connected with one another. I really wanted to get onto Ava's story though, and was a little let down by how little involved she was in the story.
I guess I expected more magical realism. I love my magical realism stories and I wanted this book to shine in the genre. It certainly sounded like it had much promise. I did like the way the magical realism was injected into the story though, it was very subtle and certainly a good introduction to those wanting to get into the genre.
The writing itself is gentle, beautiful and lyrical. I think many people would thoroughly enjoy this world and family that Leslye Walton has created.
Would I recommend it?:
Yes! 3.5 stars
An accomplished debut! A gentle book that may not be fast paced, but its enjoyable!