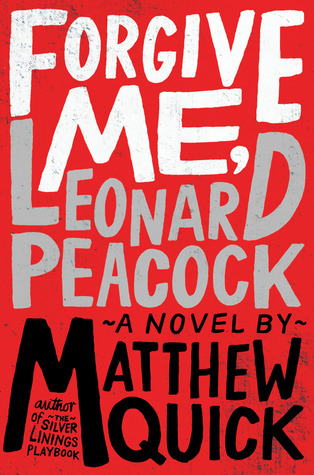 How did I get it?:
I borrowed it!
Previously reviewed by the same author:
The Silver Linings Playbook
Synopsis:
Today is Leonard Peacock's birthday. It is also the day he hides a gun in his backpack. Because today is the day he will kill his former best friend, and then himself, with his grandfather's P-38 pistol.
But first he must say good-bye to the four people who matter most to him: his Humphrey Bogart-obsessed next-door neighbor, Walt; his classmate, Baback, a violin virtuoso; Lauren, the Christian homeschooler he has a crush on; and Herr Silverman, who teaches the high school's class on the Holocaust. Speaking to each in turn, Leonard slowly reveals his secrets as the hours tick by and the moment of truth approaches.
In this riveting look at a day in the life of a disturbed teenage boy, acclaimed author Matthew Quick unflinchingly examines the impossible choices that must be made—and the light in us all that never goes out.
Thoughts:
I feel like I'm in the minority with this book compared to the rest of my book loving friends. I was so excited to read it, because I had heard such amazing things, but unfortunately I really didn't get on with this book. Don't get me wrong, there are moments of brilliance within the book, but for me I found the writing style incredibly jarring and I couldn't get past that. The style includes looking at footnotes, and whilst this works for me with some books, with Forgive Me, Leonard Peacock I just got frustrated!
Forgive Me, Leonard Peacock is an intense read. It follows Leonard, who is suffering from mental illness. Leonard has decided on his 18th birthday that he is going to kill himself. He also wants to kill his former best friend. Before he kills himself he wants to say goodbye to those that mean a lot to him, including one of his teachers. The story follows Leonard as he speaks to each person he wants to say goodbye to.
I find it hard to review this book, because as I said, it didn't quite resonate with me, and despite the moments of brilliance I wasn't sure what this book was trying to achieve. I wasn't sure whether I should be sympathising with Leonard, he does have a crappy deal with his family life and other horrible things that happen to him. I did sympathise. However, Leonard is a hard character to connect with. Or was this book trying to show the reader how much a person can take before they lose control?
Leonard is such a complex character. As I mentioned, I did somewhat feel sorry for what had happened to him in the past, but I found him hard to like. I did like him more than his mother, who was just neglectful and a complete waste of space. Leonard did have an amazing teacher who went above and beyond to attempt to help him and save his life. I wish Leonard had come across as more grateful and less obnoxious. It certainly felt like Leonard expected the world to owe him something. I know the world had been tough to Leonard, but I wish he hadn't come across as so self entitled.
The reason why I have given this book three stars is because a lot of people have enjoyed it, and it certainly struck strong emotions with me- but they weren't the feelings that I had been anticipating, that's for sure!
Would I recommend it?:
Yes!
This book completely surprised me, I was expecting to connect with it much more. It is still an intriguing look at mental illness, which I'm sure many people will enjoy!