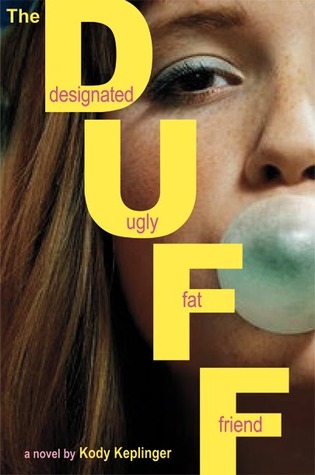 How did I get it?:
I bought it!
Synopsis:
Seventeen-year-old Bianca Piper is cynical and loyal, and she doesn't think she's the prettiest of her friends by a long shot. She's also way too smart to fall for the charms of man-slut and slimy school hottie Wesley Rush. In fact, Bianca hates him. And when he nicknames her "the Duff," she throws her Coke in his face.
But things aren't so great at home right now, and Bianca is desperate for a distraction. She ends up kissing Wesley. Worse, she likes it. Eager for escape, Bianca throws herself into a closeted enemies-with-benefits relationship with him.
Until it all goes horribly awry. It turns out Wesley isn't such a bad listener, and his life is pretty screwed up, too. Suddenly Bianca realizes with absolute horror that she's falling for the guy she thought she hated more than anyone.
Thoughts:
I have had this book on my Kindle for such a long time now. I decided to read it on the plane over to my summer holiday this year. It was the perfect read whilst I was travelling. It wasn't hard to get into and it captured my attention throughout the journey. The Duff wasn't what I expected though, I was expecting something a lot lighter, but I actually found The Duff to be quite a gritty, raw read. This certainly wasn't the cutesy romance that I was expecting.
The Duff is the Designated Ugly Fat Friend. Harsh, I know, but this term is easily banded about in this story. Bianca, our main protagonist, is called the Duff by Wesley. He tells Bianca that she is the Duff amongst her friends. She makes her attractive friends look even better. Bianca lets the term define her throughout the book.
The Duff is narrated by Bianca, a character that I think you'll either love or hate. She's certainly full of character. Bianca is a character whose voice strongly comes across in the story. She knows her own mind and is incredibly focused on her own goals. Wesley, who is one of the male love interests, is quite a typical YA male character. He's a bit of a bad boy. You know the sort! He certainly comes across as the selfish, arrogant character who has girls falling at his feet. I thought he was going to really annoy me, but as the story progresses, we find out he has much more going on in his life than we'd expect. Much like Bianca does. These characters definitely have layers. Bianca and Wesley find a connection even though Bianca insists she hates him. Wesley certainly takes her mind off things. 

As I mentioned, I was expecting fluff from this story. I really didn't get that. It was raw, real and a little messed up. Bianca made some awful decisions. There is a love triangle going on, but it's not annoying. It's messy and realistic. A lot of the situations Bianca finds herself in are relatable to so many young adults and adults alike! 
Whilst I didn't think The Duff was the most amazing piece of writing, I found it to be thoroughly enjoyable with real, gritty characters and it definitely had a deeper message about how labels and societal expectations can define us.
Would I recommend it?:
Yes!
A gritty Young Adult read. I'm intrigued to see how the movie compares...