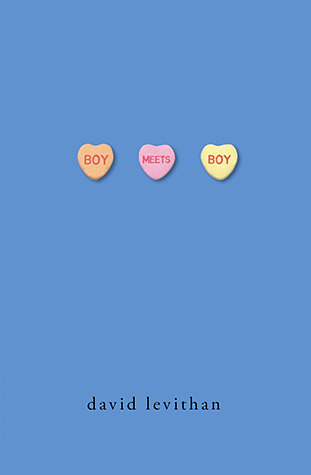 How did I get it?:
I borrowed it from Luna's Little Library
Previously reviewed by the same author:
Dash and Lily's Book of Dares
Nick and Norah's Infinite Playlist
Marly's Ghost
Every Day
Two Boys Kissing
Synopsis:
This is the story of Paul, a sophomore at a high school like no other: The cheerleaders ride Harleys, the homecoming queen used to be a guy named Daryl (she now prefers Infinite Darlene and is also the star quarterback), and the gay-straight alliance was formed to help the straight kids learn how to dance.
When Paul meets Noah, he thinks he's found the one his heart is made for. Until he blows it. The school bookie says the odds are 12-to-1 against him getting Noah back, but Paul's not giving up without playing his love really loud. His best friend Joni might be drifting away, his other best friend Tony might be dealing with ultra-religious parents, and his ex-boyfriend Kyle might not be going away anytime soon, but sometimes everything needs to fall apart before it can really fit together right.
This is a happy-meaningful romantic comedy about finding love, losing love, and doing what it takes to get love back in a crazy-wonderful world.
Thoughts:
As you can see by my previously reviewed by the same author section of this review, I am gradually making my way through David Levithan's books. I find his writing incredibly interesting and unique. I haven't always adored each book I've read of his so far, but when I pick up a David Levithan book, I know it's going to be an interesting read, and Boy Meets Boy was no exception.
Boy Meets Boy is set in America in a town where everyone is accepted for who they are, no matter what sexuality. I loved how no group was particularly marginalised. Everyone wasn't pigeon holed according to their interests. Everyone could be whoever they wanted to be.
Paul narrates the story. He is gay and very comfortable with who he is. He wants everyone around him to be as happy as he is. He wants to support his friends (who are all awesome, and very well written) in their issues. We have such a wide range of diverse characters (as I'm coming to expect in a David Levithan book). There's Darlene who is the homecoming queen but also quarterback, to Tony who is dealing with his religious families reaction to his sexuality to Noah, Paul's new crush.
This book makes me hopeful that one day communities might be as accepting as they are in this book. It would be amazing for everyone to feel like they had a place in their communities and not to be judged for their life choices, but we are definitely not there yet.  I think if you're a fan of David Levithan, you should definitely check out Boy Meets Boy. It's a decent, quick read with a lovely message.
Would I recommend it?:
Yes! 3.5 stars
A good book which is easy to devour!