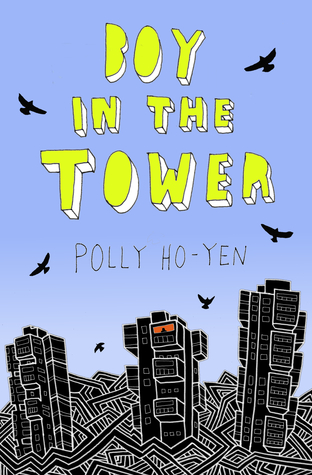 How did I get it?:
I borrowed it from Luna's Little Library
Synopsis:
When they first arrived, they came quietly and stealthily as if they tip-toed into the world when we were all looking the other way.
Ade loves living at the top of a tower block. From his window, he feels like he can see the whole world stretching out beneath him.
His mum doesn't really like looking outside – but it's going outside that she hates.
She's happier sleeping all day inside their tower, where it's safe.
But one day, other tower blocks on the estate start falling down around them and strange, menacing plants begin to appear.
Now their tower isn't safe anymore. Ade and his mum are trapped and there's no way out . . .
Thoughts:
I have to admit that I didn't know much about Boy In The Tower when I picked it up. Luna had recommended it to me, so I knew it was going to be good. I thought Boy In The Tower was an incredible debut novel. I was absolutely captivated and sped through the book, but at the same time wanted to devour every word. It's a quite hard book to review, because I don't want to spoil anything, but I'll try and get some coherent thoughts down now…
Boy In The Tower is narrated by Ade who tells us about the moments in his story before and after the incident. Ade and his mother are stuck in a tower. Ade's mother has become unwell and unable to leave his tower due to something terirble that happened to her. Ade begins to look after himself, but worries when life becomes dangerous outside.
Both Ade and his mother are incredible characters. Ade was adorable and so easy to love. I just wanted him to find help and be cared for. I really felt for Ade's mother too. Polly Ho-Yen really has a way of creating characters you instantly become fond of. There are some fabulous supporting characters too, who contribute wonderfully to a story which at the heart of it is friendship.
Would I recommend it?:
Without a doubt!
I wasn't sure where the book was going, but I ended up absolutely adoring it! Highly recommended.