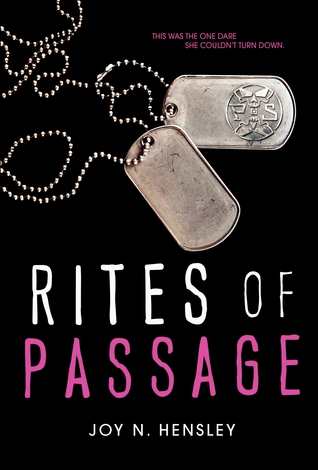 How did I get it?:
I borrowed it from Luna's Little Library
Synopsis:
Sam McKenna's never turned down a dare. And she's not going to start with the last one her brother gave her before he died.
So Sam joins the first-ever class of girls at the prestigious Denmark Military Academy. She's expecting push-ups and long runs, rope climbing and mud-crawling. As a military brat, she can handle an obstacle course just as well as the boys. She's even expecting the hostility she gets from some of the cadets who don't think girls belong there. What she's not expecting is her fiery attraction to her drill sergeant. But dating is strictly forbidden and Sam won't risk her future, or the dare, on something so petty… no matter how much she wants him.
As Sam struggles to prove herself, she discovers that some of the boys don't just want her gone—they will stop at nothing to drive her out. When their petty threats turn to brutal hazing, bleeding into every corner of her life, she realizes they are not acting alone. A decades-old secret society is alive and active… and determined to force her out.
At any cost.
Now time's running short. Sam must decide who she can trust… and choosing the wrong person could have deadly consequences.
Thoughts:
I have to be completely honest, I judged this book by its cover. It totally wasn't what I expected. I'll admit, I thought it was a New Adult/Fifty Shades-esque book but it's not. It's really not!
Rites of Passage centres around Sam McKenna who comes from a military family. Sam feels like the military is where her life is heading. Sam is dared by one of her brothers to be in the first class of females accepted into the Denmark Military Academy. Sam takes him up on the dare, and after his death knows she must honour the dare. Sam knows life is going to be tough at the Academy, but she's not prepared for the brutal behaviour she experiences. Some guys at the Academy will go to extreme lengths to ensure that a female doesn't succeed.
Rites of Passage is action packed, filled with tension and a little bit of forbidden romance, but I didn't feel the romance was at the forefront of the story. I'm so pleased that I decided to give this book a go. It really swept me up in the emotions. I actually felt really annoyed for Sam, who had to put up with terrible sexism. The attitudes of some of the guys really frustrated me. Sam is such a well written, strong character. I'm not sure many people could have put up with the abuse she did and still keep their head up high. She's definitely a character that I will remember for quite some time.
This book is fast paced and tense. So much goes on that you just have to hold on and go along for the ride. There's family drama, relationships, fighting and plotting. Joy Hensley is a fantastic writer and I look forward to reading what's next for her!
Would I recommend it?:
Of course!
Not what I expected at all. I certainly will be giving dodgy covers a go in the future! 😉