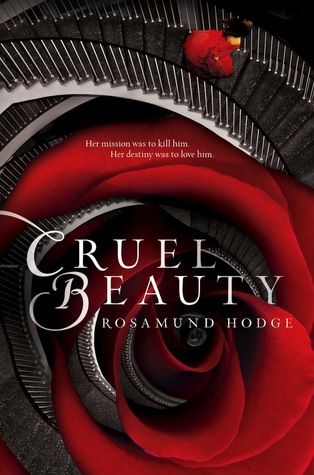 How did I get it?:
I borrowed it from Luna's Little Library
Synopsis:
Since birth, Nyx has been betrothed to the evil ruler of her kingdom-all because of a foolish bargain struck by her father. And since birth, she has been in training to kill him.
With no choice but to fulfill her duty, Nyx resents her family for never trying to save her and hates herself for wanting to escape her fate. Still, on her seventeenth birthday, Nyx abandons everything she's ever known to marry the all-powerful, immortal Ignifex. Her plan? Seduce him, destroy his enchanted castle, and break the nine-hundred-year-old curse he put on her people.
But Ignifex is not at all what Nyx expected. The strangely charming lord beguiles her, and his castle—a shifting maze of magical rooms—enthralls her.
As Nyx searches for a way to free her homeland by uncovering Ignifex's secrets, she finds herself unwillingly drawn to him. Even if she could bring herself to love her sworn enemy, how can she refuse her duty to kill him? With time running out, Nyx must decide what is more important: the future of her kingdom, or the man she was never supposed to love.
Thoughts:
I was really cautious about starting this book because I had heard so many mixed things about it. I've taken forever to get around to it, even though, if you know my blog, I love my fairy tales and fairy tale reimaginings. I decided that I'd give it a go on my summer holiday and I'm thrilled I did. I was surprised at how much I enjoyed it. I am excited to read Crimson Bound although I understand that it's not connected to Cruel Beauty, it's still a fairy tale reimagining and from this book, Rosamund Hodge does them well!
Cruel Beauty is a great fairy tale reimagining of Beauty and The Beast. But at the same time, it doesn't overly focus on the popular story. It puts its own unique twist on it including Greek mythology. Now, I am learning a lot more about Greek mythology these days and I absolutely love when authors include it in stories. I just find it so fascinating. Beauty and The Beast is one of my all time favourites, which I think is why I was apprehensive, but I need not have been, Cruel Beauty is brilliant in its own right.
The main protagonist Nyx is such a great character. I loved that she was a bit of a bookworm. I liked how intelligent she was. Nyx has a very 'interesting' family, that I didn't always like, but I loved reading about their family dynamic. I also adored Ignifex. I found myself smiling when he popped up in the story. I loved reading about their interactions. Shade was an intriguing character too. I can't say too much about Shade without ruining it for those that haven't read the book yet.
The plot does tend to stay on the romantic side, but it does have a fantastic storyline, full of darker moments. We're reading about demons, it's not so light and fluffy at all times and this is really refreshing. The only reason why I haven't given this book the five star rating is at times I felt it was a little confusing and there was a bit too much information at points.
I am really intrigued to see where this series goes though and I'll certainly be reading more from Rosamund Hodge ASAP.
Would I recommend it?:
Of course! 4.5 stars
A fantastic reimagining. I adored this book!