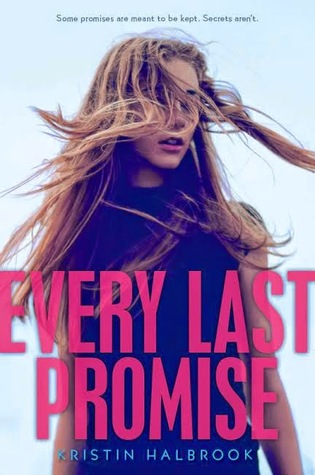 How did I get it?:
I bought it!
Synopsis:
Kayla saw something at the party that she wasn't supposed to. But she hasn't told anyone. No one knows the real story about what happened that night—about why Kayla was driving the car that ran into a ditch after the party, about what she saw in the hours leading up to the accident, and about the promise she made to her friend Bean before she left for the summer.
Now Kayla's coming home for her senior year. If Kayla keeps quiet, she might be able to get her old life back. If she tells the truth, she risks losing everything—and everyone—she ever cared about.
Thoughts:
Every Last Promise is the first book that I've read by Kristin Halbrook. When I looked at the synopsis, I knew it wasn't going to be a particularly 'easy' read, but it was a short book, which didn't take me long to read.
I have to admit, it took me a while to really connect with the story. We start with Kayla, our main protagonist, seeing something at a party. She's kept it secret for months, as she's made promises. Kayla, her friend Bean and another really know what happened the night of a terrible accident. Kayla immediately moved away, to spend the summer with her Aunt, after struggling to deal with the aftermath. She's returned home for her senior year, and is determined to see it through, no matter how awkward it is for her to return. I think the reason why I found it hard initially is because it jumps around in time a little, and I often find that quite disorientating. I sometimes feel like the story becomes a little jarred. It took me a while to get used to it, but once I was it was fairly easy to follow.
I thought that Kayla grew a lot throughout the story. She seemed a lot stronger when she was ready to face the past, to stand up to the people around her. Life was hard for her, but she was determined to be at home, where she felt she belonged, even if it meant putting up with people who were being hostile. I liked how she was determined to do the right thing, even if it was going to be a tricky decision to make.
I think Every Last Promise is a realistic enough story which covers a tough subject, that is often covered up in society. It deals with standing up for yourself (and your friends) really well!
Would I recommend it?:
Yes!
Not the most mind-blowing book, but still a decent read!