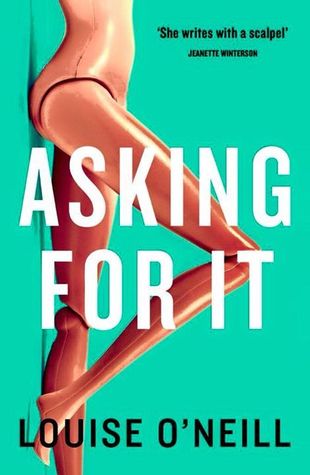 How did I get it?:
It was a gift from my sister Beth.
Previously reviewed by the same author:
Only Ever Yours
Synopsis:
It's the beginning of the summer in a small town in Ireland. Emma O'Donovan is eighteen years old, beautiful, happy, confident. One night, there's a party. Everyone is there. All eyes are on Emma.
The next morning, she wakes on the front porch of her house. She can't remember what happened, she doesn't know how she got there. She doesn't know why she's in pain. But everyone else does.
Photographs taken at the party show, in explicit detail, what happened to Emma that night. But sometimes people don't want to believe what is right in front of them, especially when the truth concerns the town's heroes…
Thoughts:
It has been said that Louise O'Neill 'writes with a scalpel' and boy does she. Only Ever Yours was a disturbingly raw read for me and Asking For It is very much the same. Asking For It does contain rape and the aftermath of rape, so be prepared for that if you are particularly sensitive to the subject matter. Asking For It cements Louise O'Neill as one of my auto buy authors. Her books are hard to read but they're raw and real. Louise completely understands young adults and portrays them so honestly.
Asking For It centres around eighteen year old Emma O'Donovan. Emma seems to have it all, she's beautiful, clever, wanted and has a great social life. Her life completely changes when she is found out on her doorstep, bruised and feeling pretty rough. She can't remember how she got there, although she has some recollection of a party with lots of alcohol consumed. She begins to remember taking a pill as well. When Emma goes to school the next day, no one talks to her, except to call her names. Everyone is talking about her and she doesn't know why, although she's sure it's something to do with the party. Emma later discovers a Facebook page with some explicit photographs of herself. She's absolutely crushed. Her life as she knew it completely changed as many people wonder if she was 'asking for it'.
This book is just so raw. It pulls you in. I've found in Louise's books, I don't often like the characters involved. They're generally not very likeable characters, but with Emma, I did feel sympathy towards her. This book affected me. The judgmental attitude that Emma experienced was infuriating. I really think it's important that the issue of consent is written about. It's such an important issue which should be discussed more.
I have to admit, I wasn't sure I was going to be pulled in at the start of the book. It seemed like your average contemporary with friends, drama and teenage parties and I was wondering when the writing was going to pack a punch. However, on the night of the party was when I quickly got pulled in. It was devastating. Even though Emma is not likeable, I think it just proves the point that noone deserves to experience what she went through.
I really appreciated that the story followed Emma a year after the event happened, when we see how much she has been affected, not just her, but her family as well. The story didn't end with a happily ever after, but I appreciate that. It's definitely given me a LOT to think about and I think this book should totally cause discussions about consent and attitudes towards women.
Would I recommend it?:
Of course! 4.5 stars
Another spectacular book from Louise O'Neill. She's amazing!