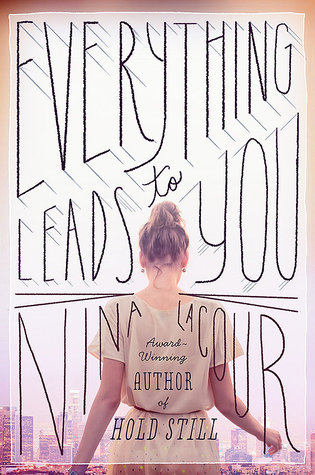 How did I get it?:
I bought it!
Previously reviewed by the same author:
The Disenchantments
Synopsis:
A wunderkind young set designer, Emi has already started to find her way in the competitive Hollywood film world.
Emi is a film buff and a true romantic, but her real-life relationships are a mess. She has desperately gone back to the same girl too many times to mention. But then a mysterious letter from a silver screen legend leads Emi to Ava. Ava is unlike anyone Emi has ever met. She has a tumultuous, not-so-glamorous past, and lives an unconventional life. She's enigmatic…. She's beautiful. And she is about to expand Emi's understanding of family, acceptance, and true romance.
Thoughts:
Everything Leads To You is an incredibly cute read, but for some reason I didn't rate it as highly as most of my book blogging friends have!
The story centres around Emi, who is a young girl who is driven in her career. She's currently doing an internship working on sets for movies. Emi is a little unlucky in love. She keeps going back to Morgan, her ex girlfriend who keeps hurting her then taking her back. Emi is determined to stay away from Morgan and she keeps being drawn back to her. Emi and her best friend Charlotte find a letter at a famous movie legend's house. It leads Emi to Ava, a girl connected to the movie legend. Emi finds herself connecting with Ava and starts wondering whether Ava is exactly what she needs! The movie aspect was interesting especially with the introduction of the mysterious letter. I enjoy reading contemporary books that deviate from the normal contemporary topics.
One of my favourite things about this book were the relationships. I adored Emi and Charlotte's friendship. Charlotte was there for her all the time and extremely protective over her friend. I also thought Emi and Ava were adorable. The romance is never too much, it's just there simmering in the background. I know… a slow paced romance in YA… fancy that! I thought that was much more believable considering that Emi was struggling after a break up with a girl she clearly adored.
Nina LaCour's writing is incredibly easy to read, she sets the scene/atmosphere so beautifully and writes about female relationships without making a big statement that she's writing about lesbians. I absolutely adored that!
Would I recommend it?:
Yes!
This book would certainly suit those that fancy a contemporary read but don't like too much romance!