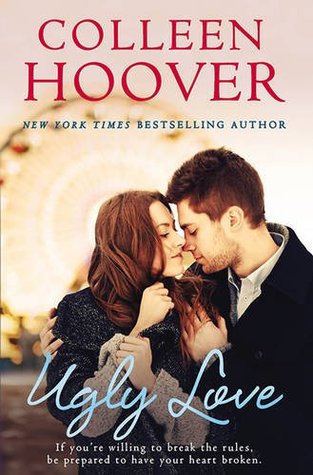 How did I get it?:
I bought it!
Previously reviewed by the same author:
Slammed
Point of Retreat
This Girl
Hopeless
Losing Hope
Maybe Someday
Synopsis:
When Tate Collins finds airline pilot Miles Archer passed out in front of her apartment door, it is definitely not love at first sight. In fact, they wouldn't even consider themselves friends. But what they do have is an undeniable mutual attraction.
He doesn't want love and she doesn't have time for a relationship, but their chemistry cannot be ignored. Once their desires are out in the open, they realise they have the perfect set-up, as long as Tate can stick to two rules – never ask about the past and don't expect a future.
Tate convinces herslelf she's ok with it, but soon realises that it's harder than she thought. Will she be able to say no to her sexy pilot when he lives just next door?
Thoughts:
As you can see from my previously reviewed by the same author section, I'm quite the fan of Colleen Hoover's writing. I don't know why it took me so long to get around to reading Ugly Love. I had it preordered, but only read it in mid September this year! Crazy times. There's just too many good books on my TBR. I'm slowly making my way through them though and I definitely need a catch up of Colleen's releases after Ugly Love. I wasn't sure what I was going to make of this book as I had heard both positive and negative reviews of it, but me being me, I wanted to form my own opinion of it.
This book centres around Tate and Miles. We hear from both of their perspectives. Tate in the present day and Miles six years ago. I don't want to say too much about the story because it's one that should be discovered as the story progresses.
I can see why some people really don't like this book. It is full of insta-love. It's almost ridiculous how quickly the attraction occurs on both strands of the story. Yet somehow I could get past my dislike for insta-love, because I was intrigued enough to see how it was going to end up. I was also curious about what had happened six years ago… that certainly kept me turning the pages. I also don't think Miles is an easy to like love interest. He is obviously a messed up character, and I wanted to find out what had affected him so much. I never guessed what it was, I have to say. However, I really didn't like the way he treated Tate. She came across as a bit of a doormat.
Something about Colleen Hoover's writing makes me push past these niggles I had with Ugly Love. I really enjoy her writing style and the honesty and rawness that she writes with. Love isn't always beautiful and I appreciate that she writes about this!
Would I recommend it?:
Of course!
Not a perfect read, but I still found it highly enjoyable!