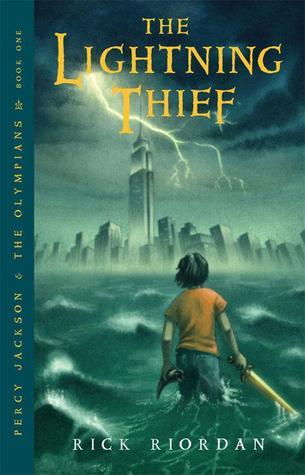 How did I get it?:
I borrowed it from Beth!

Synopsis:
Percy Jackson is a good kid, but he can't seem to focus on his schoolwork or control his temper. And lately, being away at boarding school is only getting worse—Percy could have sworn his pre-algebra teacher turned into a monster and tried to kill him. When Percy's mom finds out, she knows it's time that he knew the truth about where he came from, and that he go to the one place he'll be safe. She sends Percy to Camp Half Blood, a summer camp for demigods (on Long Island), where he learns that the father he never knew is Poseidon, God of the Sea. Soon a mystery unfolds and together with his friends—one a satyr and the other the demigod daughter of Athena—Percy sets out on a quest across the United States to reach the gates of the Underworld (located in a recording studio in Hollywood) and prevent a catastrophic war between the gods.
Thoughts:
I had never read Percy Jackson before. I know that's bad considering the massive following it has. I never thought it would appeal to me. I'm happy to say that I was wrong and I'm pleased it was picked for our kid-lit challenge. My only problem now is whether to continue the series, or wait until 2017 to read the next one (as we've picked our 2016 reads already!) I'm not sure if I can do that… I liked it that much!
The Lightning Thief is a story of Greek mythology, monsters and lots more besides. We meet our protagonist, Percy Jackson, and gradually find out that he is a special boy. Percy is dyslexic and has ADHD and has bounced from school to school after getting expelled for being in trouble so often. We learn there's more to Percy than meets the eye though.
The Lightning Thief follows the trio Percy, Annabeth and Grover who are on a quest. The quest is particularly full on. I felt like I couldn't take a breath before something else was happening. It's certainly action packed and keeps the reader turning the pages, waiting to explore the next monster to meet the trio in their adventure.
I don't know much about Greek mythology, so I'm not the best person to comment on the use of Greek mythology, but from what I read in the story, I was impressed enough. It captured my attention!
I didn't expect to like the writing as much as I did. I thought it was so interesting to read. I easily liked the characters. I think Percy himself will either grate on people, or they'll love him. I thought he was brilliant! The only thing I couldn't really get on with was the age of Percy Jackson. He's 12 and acted a lot more mature than that. I found myself questioning his age throughout, but perhaps I should have just let that go and enjoyed the story for what it was, a fun middle grade read packed full of adventure and monsters!
For Beth's review, please check out her blog HERE.
Would I recommend it?:
Of course!
Look out for the 2016 Beth and Chrissi do Kid-Lit titles coming tomorrow morning!