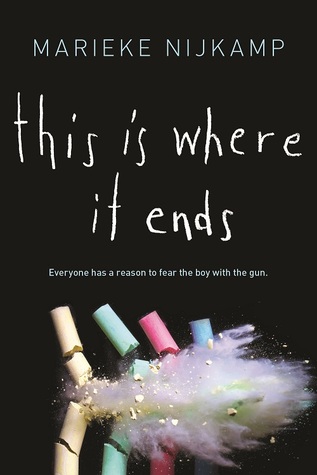 How did I get it?:
I received it for the This Is Where It Ends UK Yearbook Tour
Synopsis:
10:00 a.m.
The principal of Opportunity, Alabama's high school finishes her speech, welcoming the entire student body to a new semester and encouraging them to excel and achieve.
10:02 a.m.
The students get up to leave the auditorium for their next class.
10:03
The auditorium doors won't open.
10:05
Someone starts shooting.
Told over the span of 54 harrowing minutes from four different perspectives, terror reigns as one student's calculated revenge turns into the ultimate game of survival.
Thoughts:
This Is Where It Ends has been getting a LOT of buzz around the blogosphere. I feel like I've been seeing this book around so many blogs on anticipated lists, which makes me very happy- but scared at the same time. All too often, books don't live up to the hype. I believe that This Is Where It Ends does live up to the hype and I can't wait to read people's reviews of it!
Considering that this story is told over such a short period of time, the author packs in so much information. I felt like I knew the four narrators well through clever use of flashbacks and well written character development throughout. I have to be honest and admit that I don't always get on with this sort of narration, but for this book, I believe it was done well.
The only thing that prevented me from giving it the full five star treatment was that I felt the tweets/messages didn't add much to the story, however, they didn't affect my enjoyment of the story, I'm just ultra picky with my five stars! 😉
The story is powerful. It's heart-breaking and terrifying at the same time. If I hadn't have been so busy, I could've easily read this book in one sitting. It's addictive, fast paced and easy to devour.
Would I recommend it?:
Of course! 4.5 stars
This Is Where It Ends is an incredibly established debut. I look forward to following Marieke Nijkamp's career! 
This Is Where It Ends comes out tomorrow!