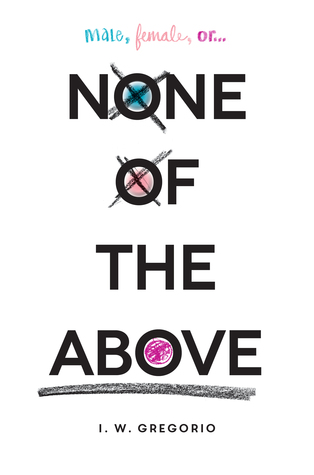 How did I get it?:
I bought it!
Synopsis:
When Kristin Lattimer is voted homecoming queen, it seems like another piece of her ideal life has fallen into place. She's a champion hurdler with a full scholarship to college and she's madly in love with her boyfriend. In fact, she's decided that she's ready to take things to the next level with him.
But Kristin's first time isn't the perfect moment she's planned—something is very wrong. A visit to the doctor reveals the truth: Kristin is intersex, which means that though she outwardly looks like a girl, she has male chromosomes, not to mention boy "parts."
Dealing with her body is difficult enough, but when her diagnosis is leaked to the whole school, Kristin's entire identity is thrown into question. As her world unravels, can she come to terms with her new self?
Thoughts:
I heard about this book in late 2014, and knew that it was a book that I wanted to get my hands on! Since its release I have heard very mixed things about it. I personally thought it was an enjoyable book which dealt with identity and bullying, but the story itself is quite simplistic. Identity is at the heart of this story. It's not all about the romances.
None Of The Above centres around Kristin, a popular girl with a good group of friends and an amazing boyfriend. Kristin finds out that she is intersex after a painful experience leads her to getting checked out by the doctor. Kristin's world is completely turned upside down. She has to learn to deal with her body, but her diagnosis is also leaked to the rest of her school, causing much teasing from peers and doubts about who she really is.
I thought Kristin was a good narrator. She was understandably confused and frustrated about her condition. I believe that it was represented very well. Her emotions felt real. I absolutely adored the relationship that Kristin had with her father. Her diagnosis was hard for him too, and she was empathetic about it and wanted to put on a brave face for him.
I think this book is knowledgable about intersex, especially because it is written by a doctor who has regularly treated intersex patients. None Of The Above is a meaningful book and I think an important book to read.  
Would I recommend it?:
Yes! 3.5 stars
An enjoyable informative read!