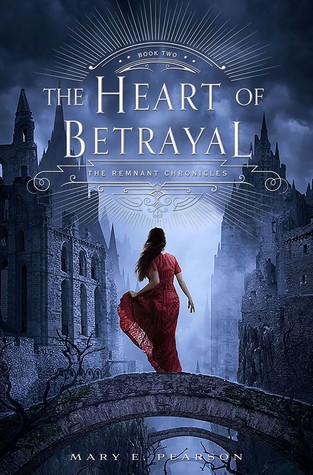 How did I get it?:
It was a present from my sister, Beth!
Previously reviewed by the same author:
The Kiss of Deception
Synopsis:
Held captive in the barbarian kingdom of Venda, Lia and Rafe have little chance of escape. Desperate to save Lia's life, her erstwhile assassin, Kaden, has told the Vendan Komizar that she has the gift, and the Komizar's interest in Lia is greater than anyone could have foreseen.
Meanwhile, nothing is straightforward: There's Rafe, who lied to Lia but has sacrificed his freedom to protect her; Kaden, who meant to assassinate her but has now saved her life; and the Vendans, whom Lia always believed to be savages. Now that she lives among them, however, she realizes that may be far from the truth. Wrestling with her upbringing, her gift, and her sense of self, Lia must make powerful choices that will affect her country… and her own destiny.
Thoughts:
I was really excited to get my hands on The Heart of Betrayal, especially after thoroughly enjoying The Kiss of Deception. I was also a little worried. All too often, second books in series don't always live up to their predecessor. This was the case (for me) for The Heart of Betrayal but I still really enjoyed it and found it to be an engaging read and a great addition to the series.
It's so hard to review a second book in the series without completely spoiling the first book. I have to be incredibly careful when it comes to talking about the plot. I will say that Lia has very little allies, but she forms alliances with people that she didn't expect to. Lia also draws the interests of some unwanted people. The romance in this book becomes even more complicated.What I really like about this series is that there may be a hint of a love triangle, or what seems like a love triangle, but really Lia only loves one. I appreciate! Love triangles are so overdone. I appreciate how Mary E. Pearson tackles the romance. The Heart of Betrayal is definitely is more about the romance than battle and this is what totally slowed down the pace of the story for me.
I'm intrigued by Lia's gift and I'm certainly interested to see where it goes in the next book! I'd love a little bit more action and exploration of the gift in the next book, however I was satisfied with this sequel.
Would I recommend it?:
Of course!
A good sequel to The Kiss of Deception. Well worth reading if you loved the first book!