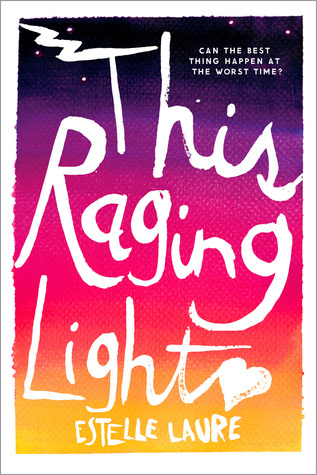 How did I get it?:
NetGalley- thanks to Hatchette Children's Group/Orchard
Synopsis:
Can the best thing happen at the worst time?
Her dad went crazy. Her mom left town. She has bills to pay and a little sister to look after. Now is not the time for level-headed seventeen-year-old Lucille to fall in love. But love—messy, inconvenient love—is what she's about to experience when she falls for Digby Jones, her best friend's brother. With blazing longing that builds to a fever pitch, Estelle Laure's soulful debut will keep readers hooked and hoping until the very last page.
Thoughts:
I think this book is going to divide so many readers. I've seen that some people have loved it and some have not enjoyed it. I'm in the middle. I  thought it was a decent read, but it didn't capture my heart as much as I wanted to. I think Estelle Laure's writing style is very beautiful and easy to read. It certainly kept me turning the pages.
This Raging Light centres around Lucille who is having a very tough time at home. Her dad went completely crazy and her mum left town following an incident with Lucille's Dad. Lucille is left with bills to pay and a little sister to care for. Lucille is trying hard to manage everything, she's not open to having help and is determined to support her sister. Lucille has to get a job to provide for her little sister and to cover the household bills. It's not the right time for Lucille to fall in love, especially with her best friend's brother. However, Lucille and Digby's relationship continues to grow, despite the fact that Digby already has a long term girlfriend.
This book really does tug on your heartstrings. The family have so much going on and a lot of responsibility is piled onto Lucille. I did feel for Lucille in this story. She had so much going on, I wondered whether she was ever going to catch a break. I loved her loyalty to her little sister. She didn't want anyone to know about their situation, as she didn't want to be separated from her sister.
I am torn with this book, because I really did want to love it. I just had too many issues with it though. I couldn't get on with Digby as a love interest. I didn't see what Lucille saw in him at all. In my eyes he was a cheater with no redeeming qualities! When the relationship doesn't work for me, it does affect my rating of the book.
I also thought there was a little too much going on for one short book. I think this book would have been even better if one or two of the plot lines had been focused on. This Raging Light will appeal to many contemporary YA fans and I believe it's worth checking out to form your own opinion!
Would I recommend it?:
Yes! 3.5 stars
Estelle Laure writes beautifully, but I couldn't connect with this story as much as I wanted!