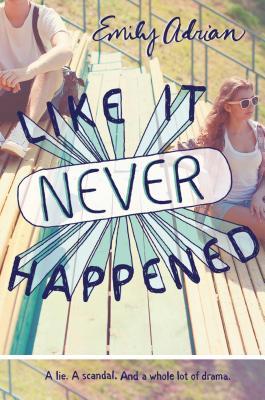 How did I get it?:
I bought it!
Synopsis:
When Rebecca Rivers lands the lead in her school's production of The Crucible, she gets to change roles in real life, too. She casts off her old reputation, grows close with her four rowdy cast-mates, and kisses the extremely handsome Charlie Lamb onstage. Even Mr. McFadden, the play's critical director, can find no fault with Rebecca.
Though "The Essential Five" vow never to date each other, Rebecca can't help her feelings for Charlie, leaving her both conflicted and lovestruck. But the on and off-stage drama of the cast is eclipsed by a life-altering accusation that threatens to destroy everything…even if some of it is just make believe.
Thoughts:
I really didn't know what to expect when I started this book. I didn't expect the storyline to have as much going on as it does. I didn't expect a slight LGBT theme. I did think I'd like it more than I actually did, but that's not to say I didn't enjoy it. I thought it was intriguing enough, fast paced and easy to read, but it had some moments in it that seemed a little pointless.
Like It Never Happened centres around Rebecca, who is seemingly a perfect little actress who can do no wrong. She has a group of friends that call themselves 'The Essential Five'. They vow never to date each other amongst other things, but Rebecca can't deny her feelings for one of the 'Essential Five' Charlie. It seems like he feels the same way as well. However, as the story unfolds the reader finds out that Rebecca is facing drama off-stage as she battles with serious allegations.
I didn't expect the part of the story with the allegation (which I won't spoil). If I'm totally honest, I think I would have preferred a story line based on more of the allegation. It would've made the story much darker and I do like a darker theme in my contemporary reads.
If you're looking for a YA book with lots of drama, then this book would certainly suit you. It's full of drama both on and off stage!
Would I recommend it?:
Yes!
It could've been a lot darker, but it's a decent read nonetheless!